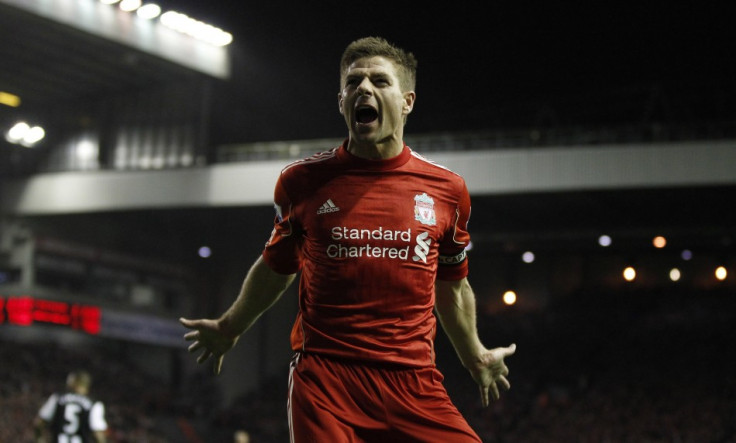 Andy Carroll has lauded the efforts of Steven Gerrard, as the Liverpool skipper continues to make his full blown return to the starting line-up.
Gerrard has been out of regular action at Merseyside for over 12 months, and the midfielder is working hard to get back to his starring ways, having already scored against Manchester City to set the Reds up for potentially their first appearance at Wembley Stadium since 1996.
His influence both on and off the field has been particularly important to his fellow Liverpool teammates, and legends, players and Kenny Dalglish have all been full of praise for the 31-year-old as he gets his footballing career back on track.
And now Andy Carroll has weighed in on his thoughts on Gerrard's return, with the youngster saying he is showing the rest of the squad how hard they really have to work to take Liverpool back to their days of glory both within England and Europe.
"It's great to have the captain back," Carroll told LFC magazine. "You can see at Melwood that as soon as he comes out on the training pitch, he's just different class. I think just him being there gives everyone else another lift and another boost.
"It's great to see him back and since he has been, he's already scored three goals so you can see straight away the difference that he makes and the impact he has.
"We haven't had the chance to start many games together. I think I may have been a sub when he's started or he has been a sub when I have so it's nice to see him back."
Carroll has been struggling to find form at Liverpool since making a British record £35 million move to the club from Newcastle last January. But the striker believes that Gerrard's influence will help him get on the goal scoring trail for the Reds, and it couldn't come at a better time as Luis Suarez serves his FA sanctioned eight game suspension.
"When you're on the same team as him in training, some of the passes he puts through for you and the chances he creates are incredible really," he mused.
"So hopefully I can keep working hard, get a nice run of games, give some good performances and get a few goals. If I can get a good run, hopefully that can kick-start me on again."
Liverpool are currently seventh in the Premier League table, and desperately need to take maximum points this month to keep the fight for a top four spot.