West Ham United manager Sam Allardyce is optimistic striker Andy Carroll will remain at the club beyond the end of the season, despite Liverpool boss Brendan Rodgers admitting the England international could return to Anfield.
Carroll has scored five goals this season including a double against West Bromwich Albion last weekend in his most impressive performance of his loan spell at Upton Park.
But injuries and a failure to recapture his goal scoring form have contributed to a largely disappointing season, and with West Ham contractually obligated to pay £17m should they wish to sign Carroll permanently, the 23 year old represents a significant financial gamble.
However, Allardyce, himself in the midst of negotiating a new contract with the Hammers, says the club will delay making a decision on the future of Carroll until Premier League safety is assured.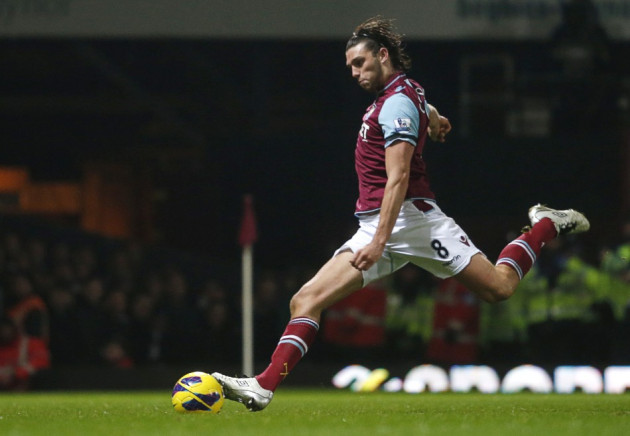 "What we got last week against West Brom is what we have been waiting for a while," Allardyce told Talksport.
"We have had the same type of performances but we have not quite had the goal ratio because of the disruption with the injures. But we saw him in full flight last week and that is encouraging.
"He can't play on Sunday obviously against Liverpool but after that we hope he continues to score the goals. The West Ham fans love him. He gets a big cheer whenever they announce his name in the starting line-up.
"I think we might have a chance [of keeping Carroll]. We'll wait and see at the end of the season. When all the budgets are sorted out and we are definitely in the Premier League then we'll have a look at everybody that is on loan or out of contract."
Rodgers earlier this week claimed that Liverpool, who signed Carroll from Newcastle United in January 2011, would still be open to retaining Carroll as opposed to losing him for a cut price.
"We've monitored it very closely," Rodgers said "We've had representatives from Liverpool at most of the games.
"It's obviously been a difficult season for Andy because his initial idea was he wanted to go out and play every week, but unfortunately for him he's picked up some injuries since he's been away.
"But he scored two very good goals at the weekend and he'll be looking to finish the season on a high and achieve the objectives he wanted to before he went out."
Carroll scored just 11 goals in 18 months at Liverpool and with Rodgers having adapted the club's playing style to conflict with his attributes, few see a future for the forward on Merseyside.