Andy Murray may have won his first Masters series title since 2011, but he is refusing to rest on his laurels as he attempts to secure more success on his least favourite surface.
The Scot defeated David Ferrer in three brutal sets to win in Miami on Sunday and in the process moved past Roger Federer to become the world number two.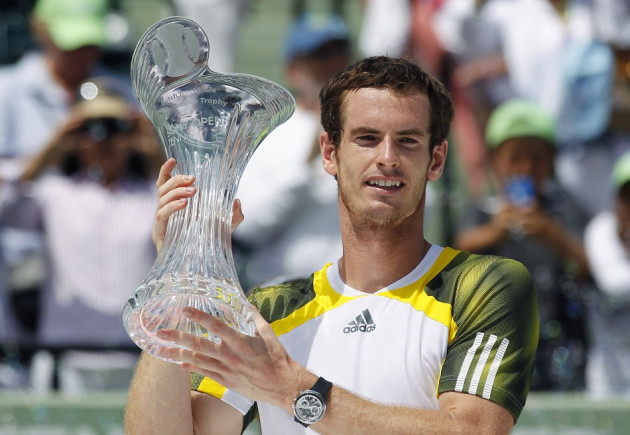 "It was nice to get there so I can go into the clay-court season just focused on improving and going forward and not worrying about rankings or seedings or anything like that," Murray told the BBC.
Despite this fantastic achievement, Murray believes there is room for improvement, especially with the clay-court season about to begin.
Last year he failed to make it beyond the quarter-final stage of any clay-court tournament, losing to Ferrer at this stage in the most high profile event, the French Open, and he admits he needs to work especially hard in order to achieve success.
"I can play some decent tennis on it but I need to work extremely hard on the clay because I haven't played on it in 10-and-a-half months now, so it always takes me a bit of time to get used to," said Murray.
"It's the most challenging surface for me and with Rafa coming back it's going to be very tough, but I'll give it my best shot."
Murray's improved seeding could prove crucial in Paris as it is likely that he will be in the opposite half of the draw to world number one Novak Djokovic, Federer and Rafael Nadal.
The French Open remains the only Grand Slam where Murray is yet to reach a final, his best result coming in 2011 when he lost to Nadal at the semi-final stage, and he will be keen to show he can be a threat on clay.
The 25-year-old confirmed that he will take a short break before returning to Europe for the Monte Carlo Masters which begins on 14 April.
"I didn't want to overplay too much at the beginning of the year - a lot of guys this week have been complaining they're tired and we saw quite a few guys pulling out," added Murray. "I think being fresh helped me and hopefully I can keep managing my schedule well throughout the year."