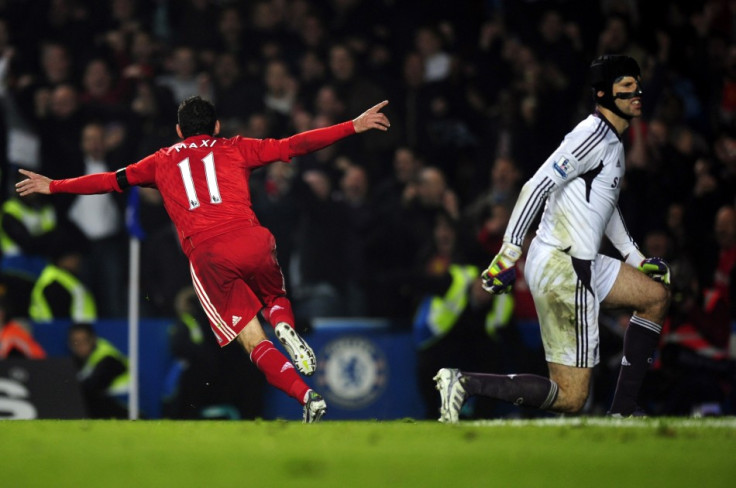 Liverpool hero Jamie Carragher believes Maxi Rodriguez is a crucial part of the club's current success despite his peripheral role under Kenny Dalglish.
The 30-year-old midfielder made his sixth appearance of the season during Liverpool's superb victory over their Premier League rivals Chelsea in Tuesday night's Carling Cup quarter-final.
Carragher, who is making his way back from injury, believes the Argentine's attitude and in particular his excellent form despite his marginal role thus far, is integral to Liverpool's recent run of good form.
Liverpool signed Rodriguez in January 2010 and he has since displayed a canny knack of scoring important goals. The 30-year-old continued that habit by scoring against Chelsea in their recent victory in the Premier League and mirrored his performance with the opening goal on Tuesday night as well.
Jamie Carragher has described the former Atletico Madrid midfielder as "a top player" and although he concedes Rodriquez is perhaps not playing as much as he would like to, the long-serving Anfield stalwart suggests his professionalism is spot on.
"Maxi is a top player," Carragher told Liverpool's official website.
"He probably doesn't play as often as he would maybe like but whenever he comes in he does a great job.
"We're talking about a top international who has played in World Cups."
In the aftermath of Liverpool's league victory over Chelsea last month, Kenny Dalglish's assistant coach Steve Clarke paid tribute to Rodriquez, suggesting his professionalism was indicative of the values they are trying to instil at Anfield.
"Everybody here knows the qualities of Maxi." Clarke told Liverpool's official website.
"He's been unfortunate this year that he's not had an extended run in the team, but what it does say about him is that he is a complete professional.
"When you're not in the team, it's difficult to come in every day, work hard and be prepared for your chance. Maxi has worked hard every day in training.
"When Maxi went in, he did a fantastic job for us."
The Liverpool assistant continued: "Everybody has spoken about the squad we've got this year. We feel it's an improvement on what we inherited when Kenny and I came to the club,
"The squad is stronger this year and I think the weekend proved that. If you look at the bench, it was very strong.
"What you try to create at a club like Liverpool is competition for places. Everybody has that competition for their place now and it can only be helpful for the group going forward."