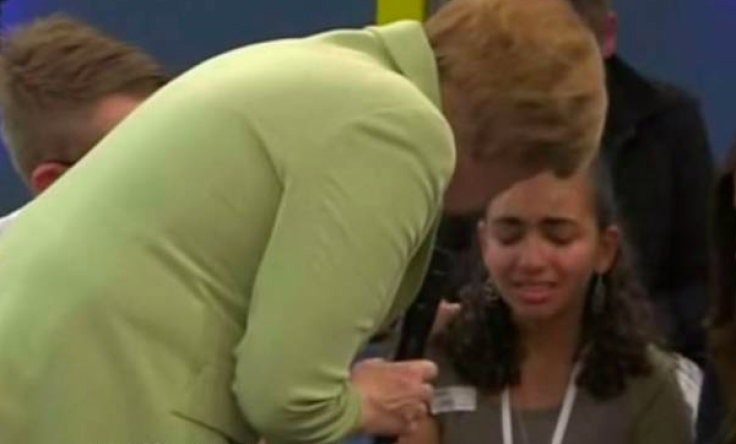 German Chancellor Angela Merkel has defended the way she consoled a crying Palestinian girl in a video that went viral online and sparked major protests.
Merkel, 61, said on 19 July that when confronted by asylum seeker teenager, Reem, at the 'Living Well in Germany' public discussion, she was honest and sympathetic.
"I think the gesture was fine," said Merkel who added that it would be wrong for people to be told that, "just because you met the chancellor, we can resolve your case faster than many, many other people's."
"We are a state under the rule of law. But nevertheless, you want to comfort a crying girl," said Merkel.
The incident occurred in the northern city of Rostock during a televised conversation with high-school students.
"Recently, we were going through difficult times because we were about to be deported. I was feeling really terrible, also here at school, something the teachers and other students saw as well," Reem told Merkel in fluent German.
Taken aback by the comment, Merkel had replied: "I understand that. Yet, sometimes politics is hard. When you stand in front of me and you are a very nice person, but you know in Palestinian refugee camps in Lebanon there are thousands and thousands [of people] and if we say you can all come and you can all come from Africa and you can all come. We can't manage that."
After the teenager started crying, Merkel approached her and said: "You did a great job."
The moderator of the discussion was next heard saying that the teenager was crying because of her difficult situation.
Meanwhile, Reem told a local newspaper that she was glad Merkel said it as it was.
"It would have bothered me more if she had not been honest," said Reem, reported France24 News.