Angelina Jolie and Brad Pitt attended a private reception at Kensington Palace today (8 May) in aid of Great Ormond Street hospital.
The event included an exhibition of props and costumes from Jolie's forthcoming Disney film Maleficent in which she plays the title role.
Entitled "The World of Maleficent," VIP guests, and leading names from the world of fashion including Stella McCartney were invited to explore the beautiful costumes and props that were created for the film before they go on display to the public at Sky Studios, The O2, London.
The 38-year-old star took to the blue carpet in a shimmering, embellished floor-length black gown, with a plunging neckline and a low-back.
Her partner of nine years, Pitt coordinated his attire wearing matching black.
The actress, who portrays the evil Maleficent, said the new story is a fitting homage to the original 1959 Disney cartoon.
"We've respected the classic, we've tried to bring you what you love about the story. We also hope to hope to bring a world that you've never seen before.
"It's a very beautiful story, and I think it is very different from what people are going to expect," she added.
Elle Fanning, who plays Sleeping Beauty Aurora and Sam Riley, who plays a character called Diaval in the film also attended the event.
Wearing a lemon strapless brocade dress and a floral headpiece, the 16-year-old actress looked like she'd stepped off the pages of a fairytale.
Fanning revealed she was initially nervous at the prospect of meeting Jolie, however was soon put at ease.
"When you hear 'Angelina Jolie,' that's just a name," she explained. "When I met her, she became, like, flesh - someone who wasn't just a big celebrity."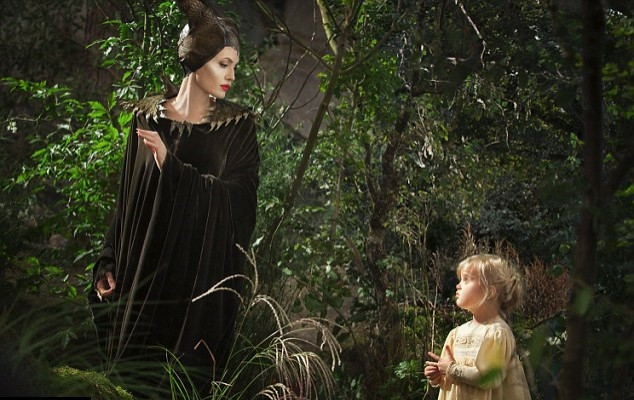 Jolie and Pitt's daughter Vivienne also stars in the film as the young Princess Aurora in the film, while son Pax and daughter Zahara have cameo roles.
Maleficent tells the tale of a vindictive fairy who is driven to curse an infant princess before realising the child may be the only one who can restore peace.
"The World of Maleficent" will run from Saturday 24th May until Saturday 14th June at the 02 and will allow fans to immerse themselves in the magic of Maleficent.
In addition to viewing the spectacular costumes and key props, visitors to Sky Studios will be able to pose for their photo with Maleficent.
The film releases in the US on May 30.