Actors feature heavily in Queen Elizabeth's birthday honours list, as Angelina Jolie, Homeland star Damian Lewis and Daniel Day-Lewis all received recognition.
Cancer fundraiser Stephen Sutton, who raised millions for the Teenage Cancer Trust charity before dying of bowel cancer aged 19 last month, was also recognised and accepted the MBE before he died.
Jolie was made an honorary dame for her humanitarian work and "services to UK foreign policy", including campaigning against the use of rape as weapon of war and her work as a UN special envoy for refugees. This week she co-chaired with foreign secretary William Hague the Preventing Sexual Violence Initiative.
Jolie, 39, said: "To receive an honour related to foreign policy means a great deal to me as it is what I wish to dedicate my working life to. Working on PSVI and with survivors of rape is an honour in itself. I know that succeeding in our goals will take a lifetime and I am dedicated to it for all of mine."
British actor Lewis, 43, received an OBE. He said: "I decided to do the very un-British thing of accepting the compliment. I don't think our republican cousins quite understand our honours system or are that bothered about it."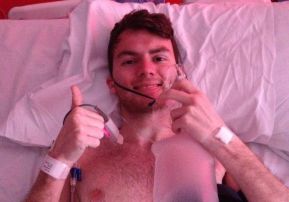 Sutton, 19, who became a household name helping to raise £4m to fight cancer before his death on 14 May, received an MBE. His mother Jane said Stephen had accepted the honour before his death and thought it "awesome". "He thought it was an incredible honour to have been nominated and it definitely got the 'thumbs up'," she added.
Three-time Oscar winner Day-Lewis, 55, said he was "entirely amazed and utterly delighted in equal measure" to be awarded a knighthood.
Dame Maggie Smith, 79, famous for her acting roles as both Downton Abbey's Countess of Grantham and Harry Potter's Professor McGonagall, has been upgraded to a companion of honour in recognition of her services to drama.