Angelina Jolie and Foreign Secretary William Hague have hailed Bosnia's decision to include the prevention of sexual violence in military training as 'ground-breaking.'
The Hollywood actress and the British Foreign Secretary are in Bosnia to address a conference on sexual violence in conflict, organised in Sarajevo by the country's Defence Ministry.
Hague stated that rape is used as a weapon to terrorise and displace whole communities and is used with devastating effect in Syria, the Central African Republic and South Sudan.
Speaking of their mission to Bosnia, he said: "Tens of thousands of women, girls and men were raped during the war in Bosnia.
"We are visiting to draw the world's attention to their search for justice, and to call for global action to end the use of rape as a weapon of war once and for all."
Jolie, who serves as a special envoy for the UNHCR, said the training was especially important for peacekeepers as their patrols "can mean that women no longer have to face a choice between going out for firewood and water and being raped or seeing their children go hungry."
She added that the initiative is "redefining soldiering in the 21st century."
In an emotive address the actress said: "The use of rape as a weapon of war is one of the great injustices of our time. For too long the world has tolerated these crimes, and left survivors to struggle in the shadows.
"Our goal is to bring forward the voices of the survivors of these crimes and to ask the world to stand with them and against impunity."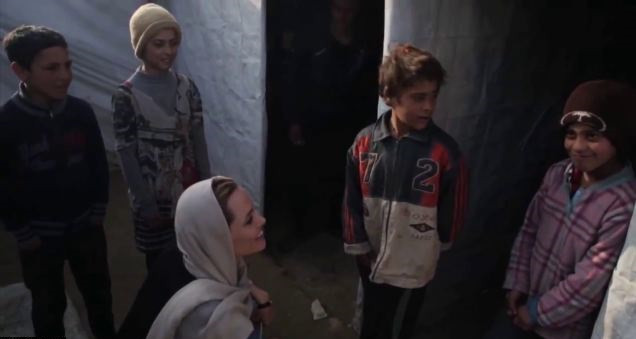 During their tour of the region, Hague and Jolie personally visited widows and mothers of genocide victims in Srebrenica in a Bosnian town where, in 1995, Serb forces killed more than 8,000 Muslim men and boys.
The Hollywood star was moved to tears after hearing the experiences of orphaned children in a Lebanese refugee camp. She listened intently as a girl named Hala described how she lost both her parents after her mother was killed when their home collapsed, while her father is missing and presumed dead.
Jolie had met William Hague, the Foreign Secretary, in Downing Street to discuss tackling rape in war zones, before they both flew out to Bosnia and Herzegovina to meet victims.
The actress arrived in the UK on Wednesday (26 March) evening when she attended a drinks reception, followed by dinner with the Foreign Secretary at his office.
She was taken from her London hotel in a black government car to Downing Street for the meeting with Hague, ahead of their departure for Bosnia.
On Thursday (27 March) they were accompanied by a police convoy, including motorcycles and unmarked police cars, as they were taken to an airport, to board a private plane for Bosnia and Herzegovina.
The Metropolitan Police Force refused to comment on the specific security arrangements of Jolie's visit but a spokesman said: "We never discuss specifics of security but if Jolie was with Government officials as part of her UN duties that would explain a police presence."
Their visit to Sarajevo comes ten weeks ahead of the three-day Global Summit to End Sexual Violence in Conflict at which they will both serve as co-chairmen.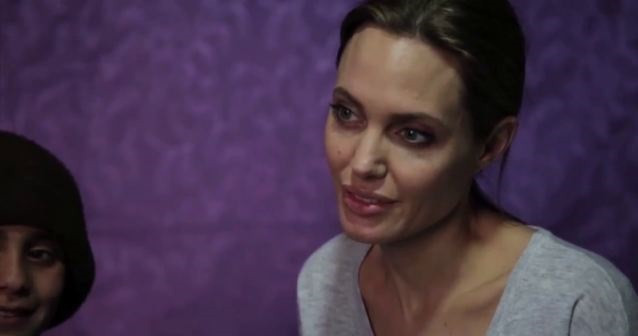 Speaking about the aims of the conference Hague said: "In London in ten weeks' time we will be asking nations around the world to make that decisive commitment, so that from Bosnia to the DRC, survivors get the justice they need, and future mass rape can be prevented.
"We can and must change the entire global attitude to these crimes, and shatter the culture of impunity," he added.
The former Conservative leader has pledged that the UK will provide funding of £250,000 over three years to the UN Department of Peacekeeping Operations and the Department of Field Support to develop training for first responders to rape and sexual violence.
Last year, Jolie and Hague travelled to the Democratic Republic of Congo, where they met survivors of rape.