Turkey's prime minister says there are strong signs that the two explosions at a peace rally in Ankara that killed 95 were suicide bombings. Prime Minister Ahmet Davutoğlu also declared a three-day official mourning for the victims of the blasts, as well as for people killed in terror attacks since July.
Turkish authorities say they have imposed a temporary news blackout following two blasts that killed 95 people who were gathering for a peace rally in the capital Ankara. A government spokesman said the blackout covered images showing the moment of the blast, gruesome or bloody images or "images that create a feeling of panic".
Many people in Ankara reported being unable to access social media websites after the two explosions – which are thought to have been suicide bombings. It was not clear if authorities had blocked access to the websites.
"There are very strong signs that the attack was carried out by two suicide bombers," Prime Minister Ahmet Davutoğlu told reporters in Ankara. Turkish President Tayyip Erdoğan also condemned the attacks, calling them a "heinous act".
"I strongly condemn this heinous attack on our unity and our country's peace," said Erdoğan. "No matter what its origin, aim or name, we are against any form of terrorist act or terrorist organisation. We are obliged to be against it together."
"Like other acts of terror, the attack at the Ankara train station is taking aim at our unity, brotherhood and future," the Guardian quotes him as saying. "The solidarity and determination we are going to display in the face of this attack will be the biggest and the most meaningful response to the terror."
Peace rally attack
This morning two blasts ripped through an area opposite the main central station in the Turkish capital just hours before an organised peace march was scheduled to take place in the nearby Sıhhıye Square. Protestors were set to march through the city in protest against the ongoing unrest in the south-east of the country between the Turkish state and the PKK, the Kurdistan Workers' Party.
248 people were injured in the blasts, which occurred seconds apart, as hundreds were gathering for the rally, organised by Turkey's public sector workers' union and other civic society groups. The two explosions took place just 50 metres from each other. No group has taken responsibility yet.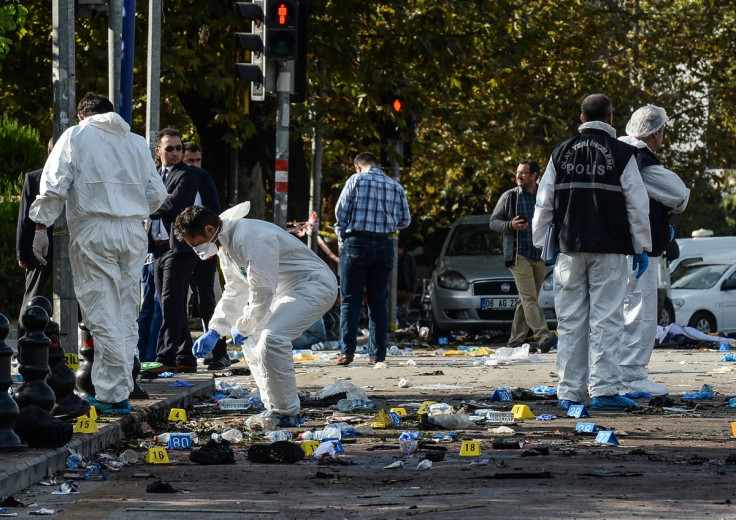 An investigation into the cause of the blasts has begun. A double suicide bombing is the most likely cause. Witnesses have told local news that ambulances could not immediately reach the scene of the attack, and tear gas was used to disperse crowds afterwards. Turkish MP Sirri Süreyya Önder also claimed a suspicious vehicle and another suspicious package have been found, according to Associated Press reports.
Many Kurds want to establish their own homeland, linking up with Kurds in Turkey, Iraq and Syria. Recently a ceasefire between the Kurd groups and Turkish state broke down after two years, with Turkey bombing PKK positions and the PKK launching attacks on Turkish forces.
Pro-Kurdish party suspected target
In recent weeks, senior PKK figures have committed to a ceasefire as elections approach on 1 November. The pro-Kurdish HDP party co-chair Selahattin Demirtaş, said: "We are witnessing a massacre here. A cruel and barbarian attack was carried out. The death toll is high."
In a statement on its website HDP announced: "Two bomb attacks occurred among HDP cortege. For this reason, it is understood that the main target of the attacks was HDP.
"According to the eyewitnesses, the explosions were carried out by suicide bomb attackers. We also want to express that this morning at about 6am, one person attacked to our headquarter in Ankara and he wanted to damage our building. Everyone can imagine that these events are not independent from each other."
The twin explosions occurred at a venue for the rally, which was labelled "Labour, Peace, Democracy". Hundreds of people had gathered outside the train station for the demonstration to be held.
Photos on social media show bodies lying in front of the station, at Hipodrom Street, and healthcare professionals tending to the wounded. The attacks came at a tense time for Turkey, a Nato member that borders war-torn Syria, hosts 1.9 million refugees – more than any other nation in the world.
An HDP rally in the city of Diyarbakir was bombed in June, ahead of general elections in which the party entered parliament for the first time. And in July, a suicide bombing by suspected Islamic State militants on a gathering of socialist youth activists in the town of Suruç on the Syrian border killed at least 30 people.
It was the third attack targeting meetings of Kurdish activists. In July, a suicide bombing blamed on the Islamic State group killed 33 peace activists, including many Kurds, in the town of Suruç near Turkey's border with Syria. Two people were killed in June in a bomb attack at a pro-Kurdish party's election rally.
Secretary of State for Foreign & Commonwealth Affairs, and Member of Parliament for Runnymede & Weybridge, Phillip Hammond said that the "appalled by barbaric attacks" on his Twitter handle @PHammondMP.