Two explosions at a peace march in the Turkish capital of Ankara have killed more than 80 people and injured another 150 civilians this morning. The powerful blasts took place near the city's central train station at around 8am BST with dozens of casualties reported.
The blasts occurred a few hours before an organised "peace" march through the city to protest against the ongoing unrest in the south-east of the country between the Turkish state and the PKK (the Kurdistan Workers' Party). An investigation into the cause of the blasts has begun, with early reports indicating suicide bombers may have been to blame.
WARNING: DISTURBING IMAGES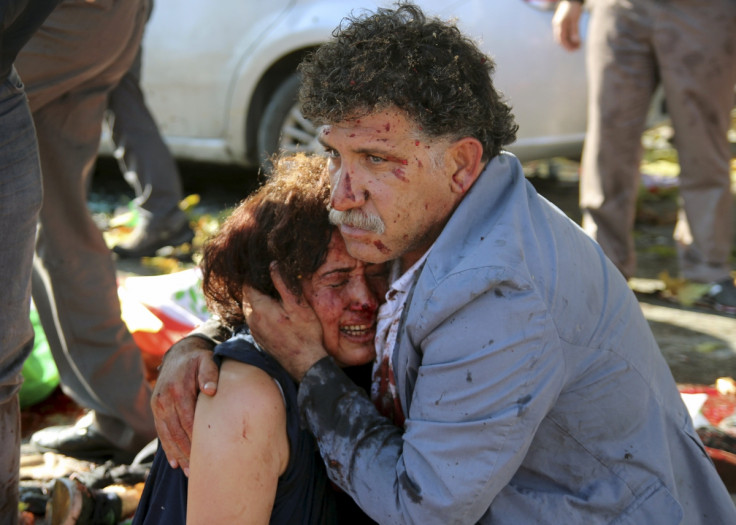 The twin explosions occurred at a venue for the rally, which was labelled "Labour, Peace, Democracy". Hundreds of people had gathered outside the train station for the demonstration to be held in the nearby Sıhhıye Square.
Photos on social media show bodies lying in front of the station, at Hipodrom Street, and healthcare professionals tending to the wounded. The explosion occurred amid growing security concerns in the country, where parliamentary elections are due to be held in three weeks time.
Turkish news agency Dogan said that at least 80 people have been killed in the blasts with the death toll expected to rise. A pro-Kurdish HDP rally in the city of Diyarbakir was bombed in June this year, ahead of elections.
Only two days ago a top PKK commander Cemil Bayik based in Iraq declared in an interview that the PKK were ready for a ceasefire. And Writing in the Kurdish newspaper Özgür Gündem this week, senior PKK figure aligned with PKK umbrella group KCK Bese Hozat seemed to accept that a ceasefire was a way of bolstering the political chances of the HDP ahead of the elections.
"The freedom movement will take a historic stance again to make a greater contribution to the HDP's great victory on Nov. 1," wrote Hozat, according to Reuters. The PKK has been known to agree to ceasefires in the past often with a view to engaging in negotiations with Turkish authorities.
Many Kurds want to establish their own homeland, linking up with Kurds in Turkey, Iraq and Syria. Recently a ceasefire between the Kurd groups and Turkish state broke down after two years, with Turkey bombing PKK positions and the PKK launching attacks on Turkish forces.
UPDATE 11.31am: Death toll and number of injured updated.
UPDATE 3.43pm: Death toll and number of wounded updated.