Update: Anonymous Posts Credit Card Details of KKK Grand Wizard who Threatened 'Lethal Force' in Ferguson
Hacktivist group Anonymous claims to have evidence that the police officer who shot black teenager Mike Brown in August is a member of the Ku Klux Klan (KKK).
As part of an on-going campaign targeting the KKK, Anonymous claims to have received evidence from a source which links Ferguson Police Officer Darren Wilson with the far right group.
According to a statement, the group says it has not published the evidence as it believes it would endanger the life of the person who provided it. Having handed over the evidence, the source emailed, pleading for Anonymous not to publish the information:
This has gotten out of control. They want to kill you. And after you release this information, they will want to kill me. I am scared for my life right now. I am begging you to please do not release the information that I gave. I'm afraid that because the information I provided is so specific, that it will definitely be traced back to me, and I will be in danger. I am a long time supporter of Anonymous, and have trusted you with my identity. Now I feel my life is in your hands. I'm begging you please. I have a family to think of.
Anonymous says that it has been trying to independently verify the claims but has so far been unable to do so to their satisfaction.
OpKKK
In the last week the hacktivist group has been carrying out a campaign entitled #OperationKKK after a local KKK group - the Traditionalist American Knights of the Ku Klux Klan (TAKKKK) - began distributing leaflets in Ferguson promising to use "lethal force" against any protestors.
Anonymous took control of several KKK-affiliated Twitter accounts and continue to carry out cyber attacks against websites associated with the group.
Anonymous has been involved in the Ferguson incident from the very beginning when teenager Mike Brown was shot dead by Officer Wilson on 9 August.
While it did a lot to help bring attention to the over-the-top reaction by police to protestors in the St. Louis suburb, one member of the group also erroneously published the incorrect name of the police officer involved at a time when Wilson's name had not been made public - significantly damaging the Anonymous name in a lot of people's eyes.
Ghoul Squad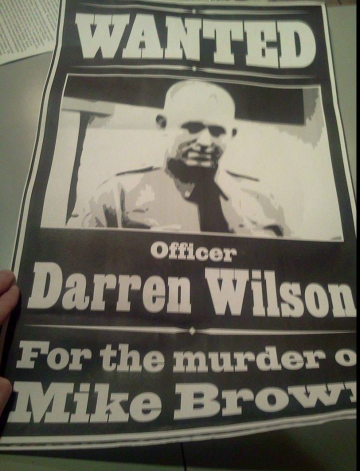 In it latest statement, Anonymous claims there is a strong link between the TAKKKK and the Ferguson police department, and in the last week has published evidence showing that three high-ranking members of the TAKKKK attended a support rally for Darren Wilson in Imperial, Missouri - evidence which has now been removed from social media websites.
The group claims members of the law enforcement community in the area are silent members of the TAKKKK and call themselves the 'Ghoul Squad'.
This claim is substantiated by an ex-member of the TAKKKK called Henry Harrell who told Anonymous: "I know for a fact that the TAKKKK had a lot to do with what went on in Ferguson."
Frank Ancona, the imperial wizard of the TAKKKK is also accused of being part of this Ghoul Squad with Anonymous pointing to the fact Ancona recently checked in on Facebook at the Ferguson Police Department as evidence of his ties with law enforcement.
Ancona posted a message online this week goading Anonymous and promising to publish information on those behind the OpKKK campaign:
But you, you're hiding behind pathetic masks, trying your best to disable to the Klan, which will never happen. Now let us tell you, we've paid people inside your little pathetic group "Anonymous" for your information, and from what has been given to us already, the main leaders of this #OpKKK have already been identified.
Ancona also called out Anonymous: "If you want war, we will give you war, not online, but on the streets, we will hunt you down and tear those masks from your face."
Anonymous has responded by announcing a protest on the streets of Ferguson which has been planned for 6 December at 3pm.
State of emergency
The situation in Ferguson is on a knife-edge at the moment as all sides await the announcement of a decision from the grand jury. The overwhelming belief is that it will decide to bring no charges against Wilson, which could spark widespread and violent protests.
Earlier this week Missouri governor Jay Nixon initiated a state of emergency in the state ahead of the predicted announcement, and on Thursday, a spokesperson for the St. Louis county prosecutor sent a test email to its press list which is seen as another indication that an announcement is imminent.
Whatever the outcome it looks likely that Wilson will no longer be a member of the Ferguson Police Department for much longer as CNN is reporting he is in final negotiations with officials about resigning.
Protests began again in Ferguson on Thursday night along with some arrests and accusations of over-zealous police response and it is obvious that whatever the outcome of the grand jury, the situation in the town is going to be worse before it gets better.