Hackers affiliated with the Anonymous hacking collective claim to have compromised a massive 1TB-worth of data from a server of the Kenyan Ministry of Foreign Affairs and International Trade. The cyberattack – launched as part of the group's OpAfrica campaign – claims to have been carried out to protest about alleged child abuse, child labour and government corruption in Africa.
A slice of the data was posted to the dark web and viewed by IBTimes UK. The leaked files range in size and consist mainly of PDF and Docx formatted documents. The content does not appear to be damaging to the government department – instead featuring internal emails between officials, memos and annual reports.
Some of the documents are titled: Request for Clearance – US Embassy, Office and Residential Addresses, Sports and Culture Achievements and Fraud Alert for Departing Diplomats.
One file that catches the eye is an internal report relating to a number of email security alerts that were issued after phishing attempts were uncovered targeting staff members. "Emails are being sent to some accounts by some people pretending to be ICT of the web administrator," wrote Jeniffer Kaaria, head of the IT division in an email dated 4 August 2015.
Upon inspection, the data dump does not appear to contain any confidential information or sensitive government credentials.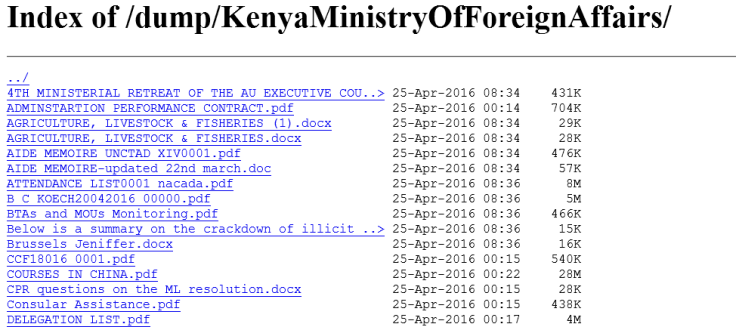 After the information was leaked the Anonymous-affiliated hacktivists told HackRead: "We have 1TB of data but at the moment, we have leaked just one portion of it. In a few days you will receive full disclosure of the data – We the Anonymous will stand against corruption, child abuse, and child labour! The government of Kenya should have expected."
It remains unknown if these claims are true. IBTimes UK has contacted a number of sources in an attempt to verify the assertions.