Another Donald Trump protester stomped by supporter before police move in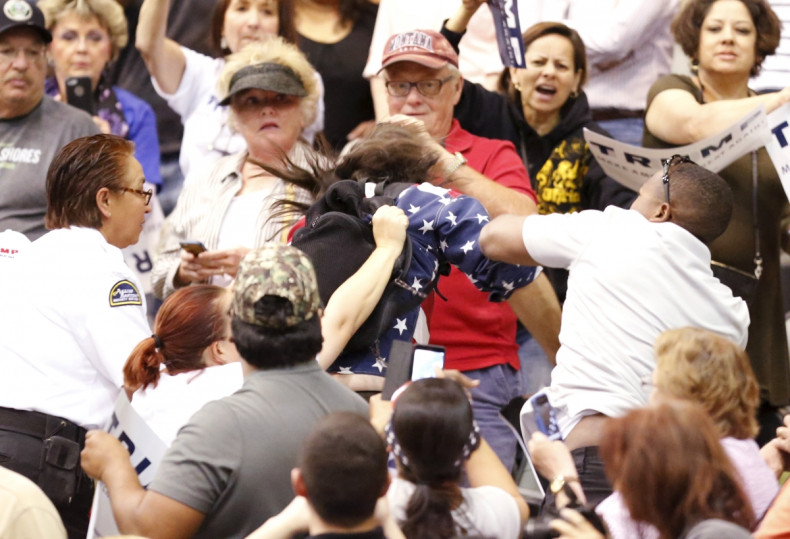 Another day, another attack on a protester at a Donald Trump campaign. Video taken in the crowd at an evening Trump rally in Tucson, Arizona, shows a supporter punching a protester to the ground and viciously kicking the demonstrator before police move in.
The protester, wearing a flag shirt and holding a sign saying "Donald Trump bad for America" was being escorted out by police when he was beaten to the ground and then kicked several times. The attacker was led out in handcuffs and later charged with assault. The protester was not charged with any crime.
It was the most brutal confrontation in an increasing number of violent attacks at Trump rallies.
A similar attack occurred in North Carolina 10 days earlier. In that incident, the Trump supporter was later charged with felony assault, and five police officers were suspended for not protecting the protester from the attack.
The Tucson confrontation occurred at the same rally where Trump's campaign manager, Corey Lewandowski, grabbed the shirt collar of another protester in another confrontation captured on video. Trump later defended Lewandowski, saying: "I give him credit for having spirit."
A campaign spokeswoman insisted that a security guard, not Lewandowski, grabbed the protester, according to CBS News.
Just before the Tucson kicking incident, Trump appeared to inflame emotions among his supporters by slamming protesters, calling them "agitators." He referred to another demonstrator wearing a Ku Klux Klan white hood who was led out with the soon-to-be-attacked protester, saying: "There's a disgusting guy, puts a Ku Klux Klan hat on, he thinks he's cute, he's a disgusting guy. That is a disgusting guy, really disgusting. A big wheel, a big wheel." In fact, the protester in the KKK hood was a woman.
After the Tucson stomping was captured on videotape, Trump told the rally: "They're taking away our First Amendment rights, they're troublemakers, they're no good, and we'd better be careful," Trump said after the kicking. "We've got to take our country back, folks."
Earlier in the day anti-Trump protesters blocked a road leading to another Trump event in Phoenix and several were arrested. Arizona's infamous Sheriff Joe Arpaio — who has endorsed Trump because of the GOP front-runner's anti-immigration stance — boasted that his officers "threw them in jail."
On a weekend news programme the following day on 20 March, Trump acknowledged that the beating was "a tough thing to watch," but he refused to condemn the violence. He complained instead about the "double standard" for protesters and supporters, and said he was more concerned that his rallies were being targeted for disruption.
"At what point do people blame the protesters" for the violence against them, he asked, calling them "professional agitators." He also complained about the roadblock in Phoenix.
"I think it's very unfair that these ... sick protesters can put cars in a road blocking thousands of great Americans from coming to a speech and nobody says anything about that," he complained on ABC's This Week.