In Marvel's Ant-Man, Michael Douglas won't be suiting up!
In an interview with MTV, the veteran actor revealed that the film will show the passing off the torch to another Ant-Man character: Paul Rudd's Scott Lang.
"My costume will be hung up, and Paul [Rudd] will be wearing it in good form," he said.
The Wall Street actor has spoken highly of his co-star Rudd's physique and praised his hard-work for the upcoming Marvel movie.
The veteran actor told MTV News that Rudd is "ripped."
"He's been training and working out for this picture for a long time. He was so cut, that they had to soften his costume up, with all the built-in six-packs and all of that," he said.
Rudd as Ant-Man would be a challenge for the actor, as it would be a deparature from his signature comedic roles that the actor is best known for, like Knocked Up and the Anchorman films.
Douglas also said that he trusted Marvel would put together a good project.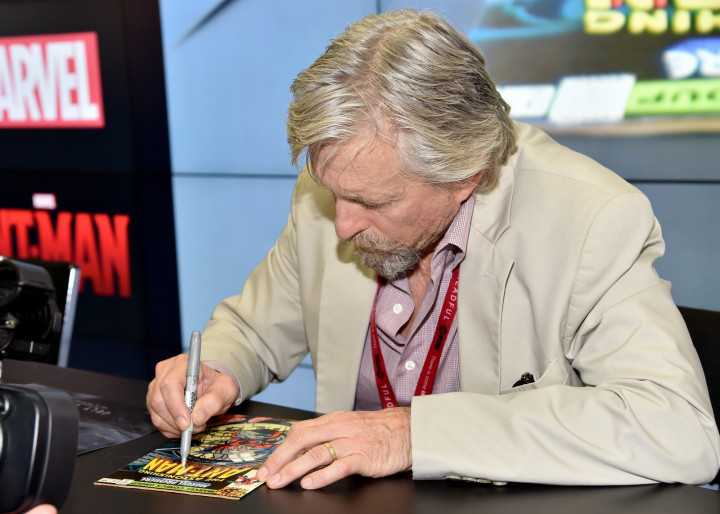 "No, I couldn't relate to it on any level," said Douglas. "It was.. I mean they, it's a whole different way of working, but Marvel's obviously got this incredible track record, but they kind of — everything sticks to the wall. They start with a broad canvas, and they can afford to. Then, they kind of hone it down," he added.
Meanwhile, in an interview with Screen Rant, director Peyton Reed confirmed that Lang's daughter Cassandra Lang would be in the film. "The thematic arc really is a sort of passing-of-the-torch movie," he said.
"Paul Rudd's character is an ex-con, a thief. It's also got the structure of a heist movie. And there's also a real personal dynamic to the movie, too. In the comics, Scott Lang has a daughter, and that's part of the movie, too," Reed said.
Ant-Man is currently in production, and in addition to Douglas and Rudd, the movie also stars Evangeline Lilly, Corey Stoll, Bobby Cannavale, Michael Pena, Abby Ryder Fortson, Judy Greer, David Dastmalchian, Wood Harris, John Slattery, Gregg Turkington, and T.I.
The movie will hit theatres on 17 July, 2015.