Anthony Bourdain treats Obama to $6 meal in Hanoi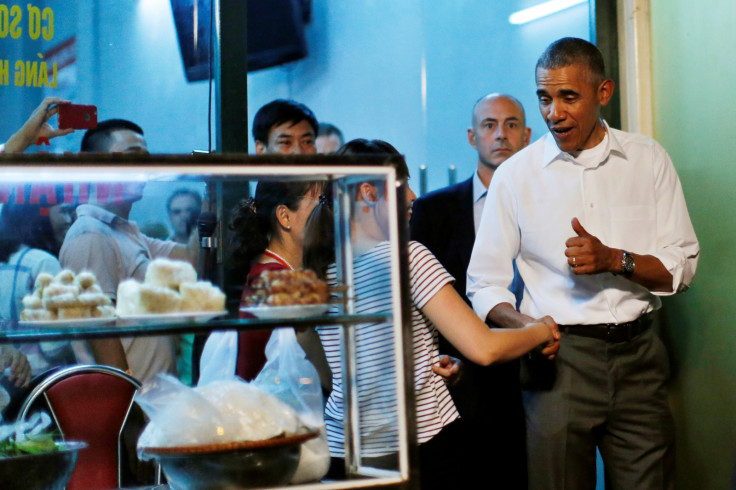 Barack Obama decided to take a break from business after announcing that the US would be lifting the ban on selling arms to Vietnam. After a day spent with Vietnamese president Tran Dai Quang and various dignitaries, the US president opted to take in the local flavours of the country while dining with celebrity chef Anthony Bourdain.
The travel show host took Obama to Bún chả Hương Liên — a crowded local restaurant where the two sat on bright blue plastic stools, dined on noodles and washed it down with a couple of beers.
A spokeswoman for Bourdain's CNN show Parts Unknown said the pair dined on a bowl of pho, the traditional Vietnamese noodle soup served with sauces on the side, along with a plate of greens, two appetisers and a Hanoi brew for each of them.
Bourdain later posted a photo of the dinner on his Instagram account, commending the POTUS on his chopsticks skills and even joked about paying for the tab — which happened to come up to $6 (£4).
"Total cost of bun Cha dinner with the President: $6.00. I picked up the check. #Hanoi," he bragged on Twitter.
The dinner was filmed by the chef's team and will make up one episode of his show that will air in September.
On his 10th visit to the Asian region, Obama will be visiting parts of Vietnam before heading to Japan. On 27 May, he will be visiting Hiroshima and will become the first sitting US president to do so since America dropped the atomic bomb there in 1945 as part of their attack on Japan following Pearl Harbor.
Bourdain is familiar with a number of heads of state and in October 2015 voiced his opinion of the presidential candidate Donald Trump. Commenting on the billionaire's plans to build a Mexico wall and deport immigrants, the chef said, "Every restaurant in America would shut down." He added that considering that a number of jobs in the restaurant business that American-born people are not interested in doing, are taken up by Hispanic immigrants, restaurant owners would "be up the creek ... It is really, really getting hard to find people to do the jobs."
© Copyright IBTimes 2023. All rights reserved.