Obama announces lifting of Vietnam arms embargo
US President Barack Obama has announced to completely lift the "ban on the sale of military equipment to Vietnam that has been in place for some 50 years".
While tensions over territorial disputes with China are yet to ease, Obama said: "The decision to lift the ban was not based on China or any other considerations. It was based on our desire to complete what has been a lengthy process moving towards normalisation [of relations] with Vietnam."
He emphasised that at the conference, Washington and Hanoi have "[established] trust and cooperation including between their militaries that is reflective of common interest and mutual respect... which we haven't seen in a very long time".
The lifting of the arms embargo by Washington will enable Vietnam to import a variety of defence technology, including maritime security facilities. He acknowledged the process that began with some courageous and difficult conversations and said, "Over time what we've seen is a progressive, deepening and broadening of the relationship."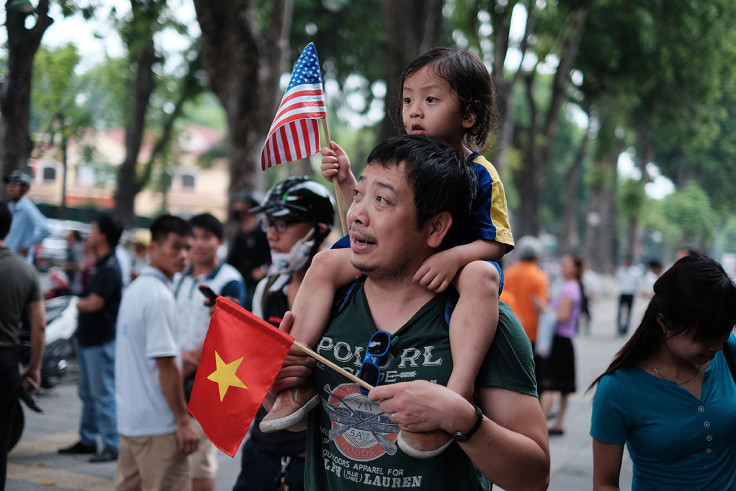 The cooperation between the militaries of both sides will help in responding to humanitarian crisis in the region, and the US may "send its additional vessels to visit the Vietnam ports only at the invitation and cooperation of the Asian nation fully respecting their sovereignty and sensitivities."
Obama who has embarked on his landmark Asia visit, is seeking to turn pages in history to build stronger economic and security ties with the Asia-Pacific allies, who especially are anxious about the rise of China's territorial dominance in the region.
However, defence experts have said that Beijing would react negatively to the growing ties between the US and Vietnam, especially if there is any resistance to Chinese supremacy in the South China Sea.
"They likely will view this possible move by the US to bolster Vietnam's maritime domain awareness in the South China Sea as an effort to stand up to China's more assertive ambitions in the disputed waters," Murray Hiebert from the Centre for Strategic and International Studies said, ahead of Obama's visit.
After his three-day stay in Vietnam, Obama will head to Japan for a G7 summit, where he is also expected to visit Hiroshima.
Editor's note: The article has been suitably updated with further developments.
© Copyright IBTimes 2023. All rights reserved.