WBA and IBF heavyweight champion Anthony Joshua has assessed his potential 2018 opponents in the undefeated trio of Tyson Fury, Deontay Wilder and Joseph Parker.
Joshua most recently defended his WBA and IBF heavyweight titles against Carlos Takam in Cardiff on 28 October to extend his own unbeaten record to 20-0.
Having outlined his goal to become boxing's first-ever heavyweight champion to hold all four titles, the Briton had previously revealed that he wanted to face the trio to cement himself as the undisputed best heavyweight in the world.
Determining Joshua's next opponent has become a challenge though, as it initially looked like he would take on WBC title holder Wilder. However, according to WBO title holder Parker, a fight between them could take place in March 2018.
Regardless of which title unification fight takes place first, "AJ" believes it is the former champion in Fury, recently cleared to fight again, who provides the toughest challenge.
"I think Fury would be if he comes back in shape," Joshua said when asked by Thierry Henry who his toughest opponent would be. "I just think he's awkward in the mind and he's awkward in his style. Unpredictable, this is the situation.
"You just don't know. He doesn't have one significant style. He may move around the ring and try and steal the win, he may just jab the whole fight, I've seen him fight guys like John McDermott years ago where he would just try and fight with you, Steve Cunningham where he tries to fight with him and he's more vulnerable.
"So I don't know what style Fury will possess but he's good because he can mix it up, he's a man of many trades," Joshua added.
The 28-year-old then went on to assess Wilder, interestingly claiming that he thinks the "Bronze Bomber" will be next, though it is not certain what time frame he is referring to.
"Wilder, I think will be next," Joshua added. "And just for the sheer fact that I think his record proves he has a powerful punch, but his powerful punch doesn't come with an uppercut, it doesn't come with a peach left hook.
"It just comes with a straight right hand. So you eliminate one or two of his main weapons, you kind of chip the tree down with Wilder and I think he starts to lose his confidence."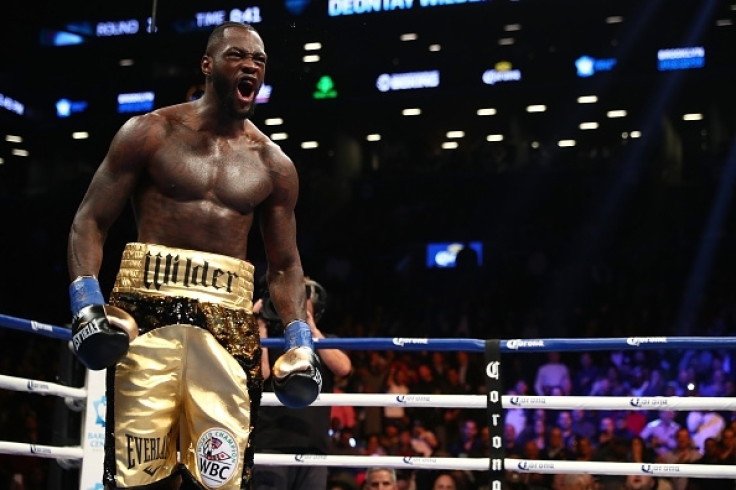 As for Parker, Joshua claims it is now hard to gauge the New Zealander as he seems more confident now and has started to become regularly involved in trash talk.
"Parker, I don't know, it's unpredictable, because from a fighting perspective, I know I can beat him," Joshua explained. "But he's now trying to challenge me mentally, the things he's saying, the way he's acting, this is out of character.
"So I have to reassess Parker. I don't get where he's got this lease of confidence, I just don't get it but I'm going to have to assess Parker because he's not going to trouble me physically, he's trying to get to me mentally. I have to keep my cool and not get involved in any trash talking."