Anthony Joshua hit with flood of Islamophobic abuse after tweeting mosque photo
The IBF heavyweight title holder is currently in Dubai.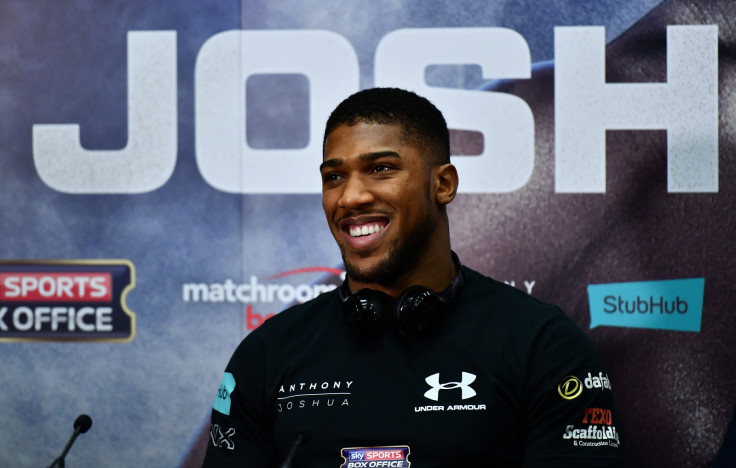 Anthony Joshua has been flooded with Islamophobic abuse on social media after he posted a photo of himself in a mosque on Twitter. The 27-year-old shared a picture of him kneeling with his friends in a mosque in Dubai on Monday (17 January) and was subsequently trolled and chastised by his followers.
"Besides luck, hard work & talent.. Prayer is a solid foundation. It was nice to join my brother as he led through afternoon prayer," Joshua tweeted.
Sadly, Joshua's photo outraged some of his followers, with a handful announcing the end of their support for the IBF heavyweight title holder. The sorry situation occurred on the birthday of arguably the greatest boxer of all-time, Muhammad Ali, who converted to Islam in the 1960s. Ali passed away on 3 June last year.
Twitter user @andylbantam tweeted: "Jesus Christ, that's an unfollow from me an all if you follow that backwards religion! Good day." @RightwingerRoy wrote a message along the same lines: "He is a great fighter but I am shocked and disappointed by his support for such a vile religion."
While there was a substantial amount of vitriol directed at Joshua, a number of fans wrote words in support of the undefeated boxer: "What a world we live in! I'm worried about the future for my kids if this is how Grown Adults act! Ignore them Champ." wrote @1987ladyo. "If you stop supporting @anthonyfjoshua over 1 picture, were you ever a real fan of him to begin with?" asked @AztheBaz.
The Olympic gold medallist, who is set to fight heavyweight legend Wladimir Klitschko at Wembley Stadium on 29 April, has stated previously that he is not committed to any religion, but that prayer is important to him.
'Prayer is a method practiced from ancient days, so it's very important for us to maintain a spiritual connection, something that people, gladiators would do years ago, so we're just maintaining that routine." Joshua told the Daily Mail last year.
"I'm not going to dig anyone for their beliefs or anything like that, but I definitely feel religion is a big part of life, whether you believe in it or not, in everyone's day-to-day life religion's a big part. Prayer and so on, and beliefs, is definitely important to me. I don't have a preferred religion – I'd have to do research."
© Copyright IBTimes 2023. All rights reserved.