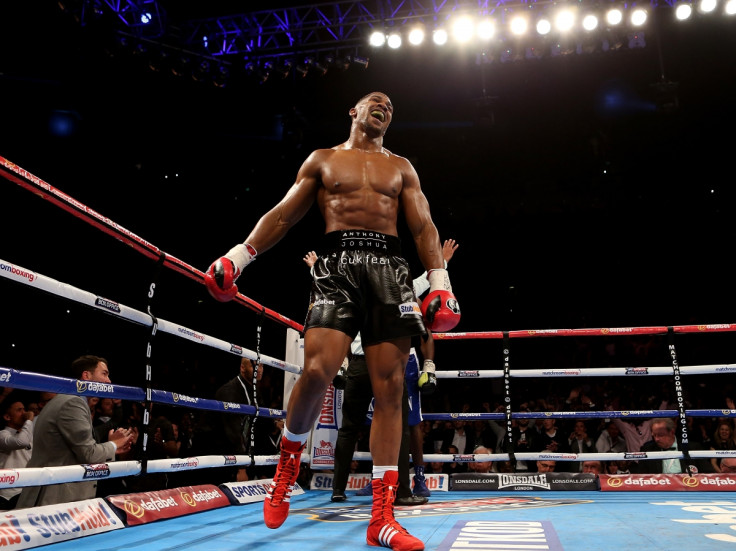 Great British heavyweight hope Anthony Joshua returns to the ring against Scotsman Gary Cornish on 12 September. Headlining the 'Heavy Duty' Matchroom bill in front of a bumper crowd at London's O2 Arena, the two unbeaten fighters will compete for the Commonwealth title vacated by WBA mandatory challenger Lucas Browne in July .
How to watch
The whole event will be screened live on Sky Sports 1. Beginning at 8pm BST, we estimate the main event/ringwalks will get underway approximately two hours later. BBC Sport will also be providing live text commentary throughout the evening.
Overview
While Joshua will no doubt remain fully focused on the challenge at hand, much of the build-up to this clash has been dominated by his burgeoning rivalry with fellow Briton Dillian Whyte. The two men already have a contest pencilled in for December, and Whyte, who fights on the undercard against Brian Minto, further attempted to unsettle his former amateur opponent by branding him a 'scumbag' during the final press conference.
As for the fight itself, few would back against Joshua maintaining his run of knockout victories after his devastating defeat of veteran American Kevin Johnson in May. One intriguing aspect is the fact that the Olympic gold medallist has been placed in the slightly unusual situation of being both the shorter and lighter man. Standing at 6'7" tall and weighing in at a formidable 18st 4lbs, the towering Cornish boasts an inch in height and almost five pounds more in weight. Despite that, however, he is unlikely to match the speed, variety and sheer power of his opponent.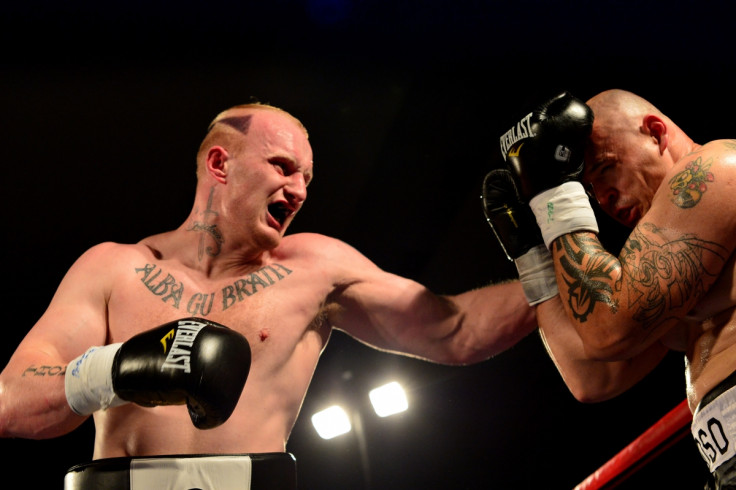 What they have said
Anthony Joshua: "I'm not here to overlook Gary. He's my main man and the fighter I'm worried about right now. After that, my attention will be solely on Dillian. Of course, you've got to put your eggs in the basket and mine are with Gary and Saturday right now. I'm a big guy, I hit hard and I'm trying to do my thing and whoever these paws start catching, they're going to feel it regardless of whether any mask is on or the mask is off - I'll do my bit.
"I'm pretty chilled. Scotland welcomed me with open arms when I went up there and Gary's been respectful in the build-up, so we'll put that aside. We're two athletes trying to get on to the global stage and won't let a divide get in the way, so good luck to the big man. I'm not really interested about what's been said about Gary. I'm only interested in how I'm feeling. People will say what they want to say and it's up to him to block out what people say and worry about himself, because I'm not really interested and have no say on anything he might be feeling.
"My job is only to get in there and get the win. They could book me up until 2020 because my job is just to keep on winning and stay injury-free. The promoter can do his job and I'm going to keep on doing my part and potentially winning and winning and winning."
Gary Cornish: "I know that many people are underestimating me and I'm not bothered about that. I'm a quiet guy who just goes about my own business. I don't listen or pay any attention to what they say. I'm not going to give anything away on what we are going to do - but I will surprise people on the night.
"I'm going to turn up to fight and win as I always do. I'm there to have a fight with Joshua and I'm confident I can outbox him and I can stop him. We are two undefeated fighters who are willing to put their 0s on the line - both big punchers and it definitely won't see the final bell, someone is getting knocked out. I'm relaxed and quietly confident in myself, I respect him but we will be victorious."
Records
Joshua - 13 fights, 13 wins (13 via knockout)
(W) - Kevin Johnson - technical knockout - May 2015
(W) - Raphael Zumbano Love - technical knockout - May 2015
(W) - Jason Gavern - knockout - April 2015
Cornish - 21 fights, 21 wins (12 via knockout)
(W) - Zoltan Csala - technical knockout - May 2015
(W) - Marino Goles - technical knockout - February 2015
(W) - Larry Olubamiwo - points victory - September 2014
Prediction
Cornish should provide the toughest test of Joshua's professional career to date, yet it is still difficult to see anything other than an emphatic victory for the home favourite. Many will be eager to see how the 25 year old handles being taken beyond the third round, but even that seems very unlikely if he is given the opportunity to display his athleticism and ferocious punching power. Joshua via a second-round stoppage, with the crowd hoping that a lively undercard can justify the evening out.
Rest of the card
Dave Ryan v John Wayne Hibbert
Tommy Martin v Michael Devine
Ricky Boylan v Danny Connor
Dillian Whyte v Brian Minto
Charlie Edwards v Louis Norman
O'Hara Davies v Dame Seck
Jake Ball v Haidir Sadiq
Ted Cheeseman v Gabor Ambrus
Reece Bellotti v Adel Hadjouis
Lucien Reid v David Happal