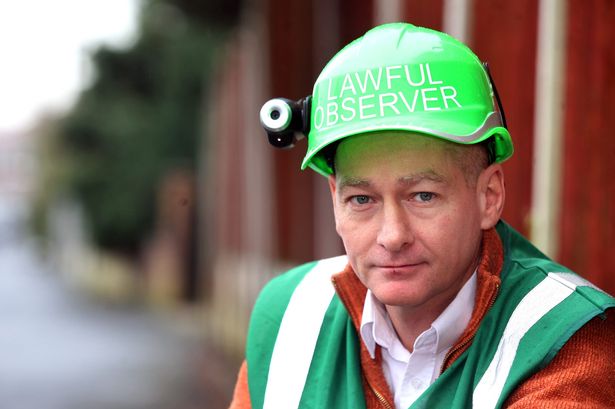 Manchester Evening News
An anti-fracking protester is planning to sue Greater Manchester Police (GMP) after he was arrested for refusing a breathalyser test and accused of driving to the protest site drunk.
Dr Steven Peers threatened to sue after a court threw out the case against him.
Peers was filming a demonstration at Barton Moss in Salford. His six-minute video of the arrest shows a policeman accusing him of being drunk and detaining him.
The 46-year-old engineer, who lives in New Moston, was wearing a large green hardhat bearing a sign that said "lawful observer". He was also wearing a green high-vis jacket.
His video appears to show him being pushed to the ground by a police officer while Peers was filming another protester being detained.
A second policeman, identified by the Manchester Evening News as Sgt David Kehoe, attempts to lead Peers away from the scene. The officer says he could arrest Peers but will not.
Then suddenly the policeman starts accusing him of drinking and driving to the protest site.
"Are you drunk?" Kehoe asks in the video. "You've been drinking this morning, haven't you?"
Kehoe repeats the question five times, and Peers is heard replying, "No I've not. I've had tea."
Kehoe asks where Peers' car is and insists that the doctor has been drinking. He claims that Peers told him that he had had two drinks and that he can smell alcohol on the suspect's breath.
Brethalyser test
Peers repeatedly refuses to consent for a breath test and is warned by other officers that refusing is an offence.
He was arrested and his camera was confiscated, but the case was thrown out of court after prosecutors offered no evidence. His camera was returned to him and he uploaded the video of his arrest to YouTube.
The footage has been viewed on YouTube 170,000 times and shared on multiple citizen journalism websites such as LiveLeak, where it has gone viral over social media networks, garnering hundreds of thousands of views.
"It was a ridiculous, trumped-up charge," said Peers. "He [the police officer] wanted me arrested to take my video camera away. He told blatant lies. He was perverting the course of justice. I was shocked that he would do that on camera.
"When officers go well beyond the course of their duties and fabricate evidence, they should be removed. You've got to have some standards in the police."
Investigating misconduct
A GMP spokeswoman said: "Greater Manchester Police have received a complaint about this video which officers from the Professional Standards Branch are investigating."