Controversial Dutch politician Geert Wilders is to make another speech at a public event in the US despite an attempted attack by two Islamists at a conference he attended in Garland, Texas which left both attackers dead.
Wilders, who leads the anti-Islam Party for Freedom in the Netherlands, will appear at "Lobsterfest", an event organised by the Palm Beach County Republican Party, in August.
Local Republican Party chairman Michael Barnett said, however, that organisers do not fear an attack similar to that which took place in Garland, when both attackers were shot dead after shooting and wounding a security guard.
"Some people called with concern, asking us if maybe we should rethink it. But I think it's important that we let people know that we can't allow ourselves to be scared into silence," said Barnett.
Unlike the Garland event, there will be no "Draw Mohammed" competition, but the very presence of Wilders is bound to inflame some Muslims. Wilders, who has spoken out against the religion for decades, is said to be on an Isis hit-list.
In 2009 Wilders was banned from the UK where he planned to screen his controversial film Fitna in the House of Lords. The Asylum and Immigration Tribunal overturned the ban in October 2009.
In a speech he gave in Washington a few days before the Garland attack, Wilders, who is almost as famous for his flamboyant hair as for his political views, said he was resigned to being a target for terrorists.
"If you do so, first you end up on a jihadi death list as happened to me and many others," said Wilders.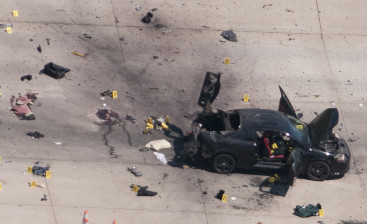 "Not only the Pakistani Taliban and Isis [the Islamic State] want me killed, but I'm on a death list from al-Qaeda with several columnists, authors, and journalists some of which already paid with their lives, others who are already victims of assassination, and others left under permanent police protection."
Isis today claimed responsibility for the Garland attacks, carried out by Elton Simpson and Nadir Soofi. On its official radio station "Al Bayan" Isis said: "We say to the defenders of the cross, the US, that future attacks are going to be harsher and worse. The Islamic State soldiers will inflict harm on you with the grace of God. The future is just around the corner."
However, former FBI agent Tim Clemente told CNN he was not convinced the two men were "members" of the group.
"They may not have had formal contact [with Isis]. They may have had email communication or read communications from Isis, but I don't think they were directed by Isis," he said. "I think it's the other way around - they were kind of applying for membership into Isis."