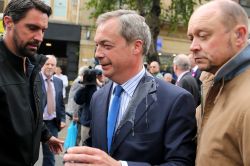 Nigel Farage, the leader of UKIP, has rejected an invitation by the leader of the Dutch Party for Freedom to form an alliance with them and other right-wing parties across Europe, including Marine Le Pen's Front National, at the European Parliament following the forthcoming elections.
The offer to UKIP came from Geert Wilders, the founder of the Dutch Party for Freedom, who has been an outspoken critic of Islam and large-scale immigration.
Wilders told Sky News: "I hope that after the elections in May... Mr Farage and my party ... can work together because I know one thing: if we really want to be a good advocate of all those millions of voters (who) cast their vote not against Europe but against the European Union, that they would benefit more if we were able to overstep our shadows and work together."
Wilders, 50, has been made the subject of a fatwa and threatened with death by Muslim extremists for his views about Islam, including "Fitna", a 17-minute film he made in 2008 which achieved notoriety across the world. In 2009 Wilders – who calls the Koran a "fascist book" – was banned from entering the UK on public security grounds. The ban was later lifted and despite protests Wilders was allowed to screen the film in the House of Lords.
However Farage – still facing criticism for refusing to stand in the Newark by-election and left with egg on his face after being attacked by a demonstrator in Nottingham last week – has repeatedly rejected the idea of forming a pan-European alliance with far-right parties.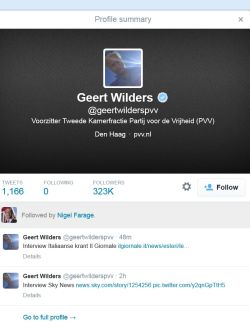 Last year Farage said UKIP and the Front National led by le Pen came from "completely different political traditions and backgrounds" and dismissed Front National as anti-Semitic. He also dismissed suggestions that UKIP were racist.
"People with a genuine concern about mass migration into Britain are voting for UKIP, a respectable party which has within it many members of ethnic minorities," said Farage.
Despite the fact he appears to be a follower of Wilders on Twitter, Farage is probably wary of becoming linked with the maverick Dutchman, who recently asked supporters at a meeting in The Hague: "Do you want more or fewer Moroccans in this city and in the Netherlands?"
When they chanted "Fewer, fewer" Wilders replied: "We'll take care of that."