A synagogue in Montana wants police protection after Nazi fliers were delivered nearby following Donald Trump's election win. Anxiety is now growing among American Jews after Trump appointed an alleged anti-Semite as one of his closest advisors on Sunday as the number of hate incidents continues to rise across the US.
Nazi Party fliers were distributed throughout the small town of Missoula, Montana, last week near the Har Shalom synagogue. These called the media a "long term Zionist plan to control America" and said "the Jews' purpose is to destroy us and our families from the inside out." The fliers called on people to fight in the name of their "white children."
In the run up to the election members of the Schaarai Zedek synagogue in Tampa, Florida, were targeted when an American flag with an anti-Semitic hate message was left outside their gate. It inaccurately blamed Jews for media bias and US immigration policies.
Jewish journalists have also become targets for hateful vitriol and intimidation by Trump supporters. And swastikas were spray-painted on a school in Maryland where a Jewish congregation holds services.
Jewish students in a dorm at The New School in New York claim they woke up Saturday (12 November) to find a swastika drawn on their door. Swastikas have been appearing across the US following the election and even children have been heard shouting "Heil Hitler!" in school hallways.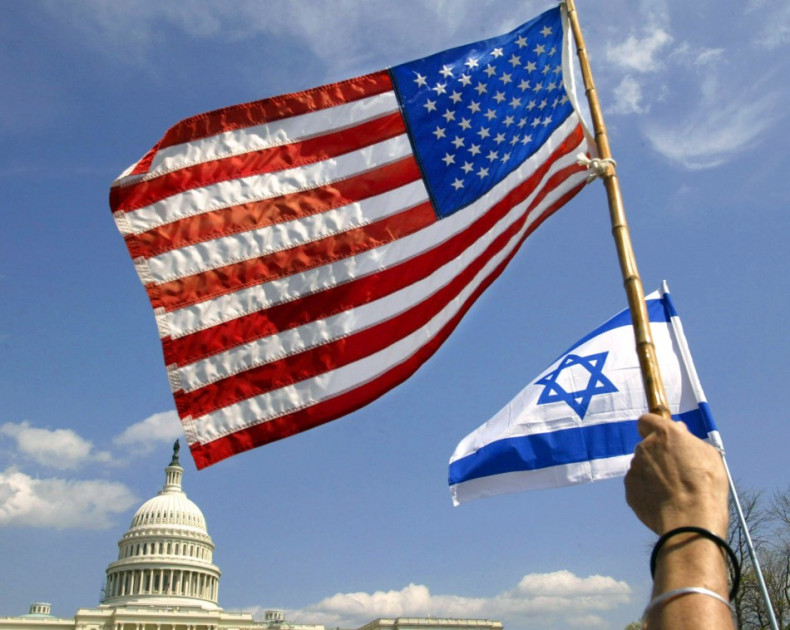 After Trump's election victory synagogues in New York, Philadelphia, Atlanta, and Los Angeles have organised community support gatherings. "There is palpable fear," Rabbi Denise Eger, who leads a West Hollywood synagogue in Los Angeles, told Haaretz. Eger has been fielding calls from Jews who are afraid. They are saying things like "I feel like I don't belong in this country," she said.
Several other incidents are now fuelling increasing anxiety and alarm among America's Jewish community following Trump's win — not least of all the appointment of the former head of far-right publication Breitbart, Stephen Bannon, as Trump's chief strategist and councillor on Sunday.
Sources say the American Israel Public Affairs Committee (AIPAC) — a large lobbying group — is "privately apoplectic" about Bannon's appointment, according to Jonathan Franks, an executive producer for the Montel Williams show. Trump spoke at an AIPAC event in March 2016.
"It is a sad day when a man who presided over the premier website of the 'alt-right' — a loose-knit group of white nationalists and unabashed anti-Semites and racists — is slated to be a senior staff member in the 'people's house,'" said Jonathan Greenblatt, CEO of The Anti-Defamation League, a 100-year-old civil rights group, of Bannon's appointment Monday (14 November). Greenblat called Bannon "hostile to core American values."
In August, when Bannon became Trump's campaign chief, a 2007 sworn declaration by his ex-wife during divorce proceedings came to light in which she accused him of making anti-Semitic remarks. In it she talks about three separate incidents when the couple were considering where to send their daughters to school in Los Angeles.
"He said that he doesn't like Jews and that he doesn't like the way they raise their kids to be 'whiney brats' and that he didn't want the girls going to school with Jews," she said in the statement.
Breitbart is known for courting an 'alt-right' audience. During the election the site labelled neo-liberal Conservative Bill Kristol a "renegade jew."
Users of the white supremacist online forum Stormfront said Trump's move to appoint Bannon to such a prominent position "sounds perfect" as he "will have Trump's ear more than anyone else."
Another said "Bannon as 'chief advisor' will raise the profile of the entire Alt – or as some are calling it 'New Right.'"
But over the summer when Trump came under fire for his ties to anti-Semitic groups like the Ku Klux Klan, his Jewish son-in-law Jared Kushner spoke up in defence of the Republican.
"The fact is that my father in law is an incredibly loving and tolerant person who has embraced my family and our Judaism since I began dating my wife," Kushner said in July. "His support has been unwavering and from the heart."
In a campaign video Trump spoke about how his daughter Ivanka Trump and Kushner are raising his grandchildren in the Jewish faith. "I love Israel and honour and respect the Jewish faith and tradition," he said, "and it's important that we have a President who feels the same way."
Still, others question what Bannon's appointment means for Trump's agenda. "The racist, fascist extreme right is represented footsteps from the Oval Office," said John Weaver, a strategist for Republican Governor John Kasich. "Be very vigilant America."