Anti-Semitism in the UK: School daubed but neo-Nazi protest shifted from Golders Green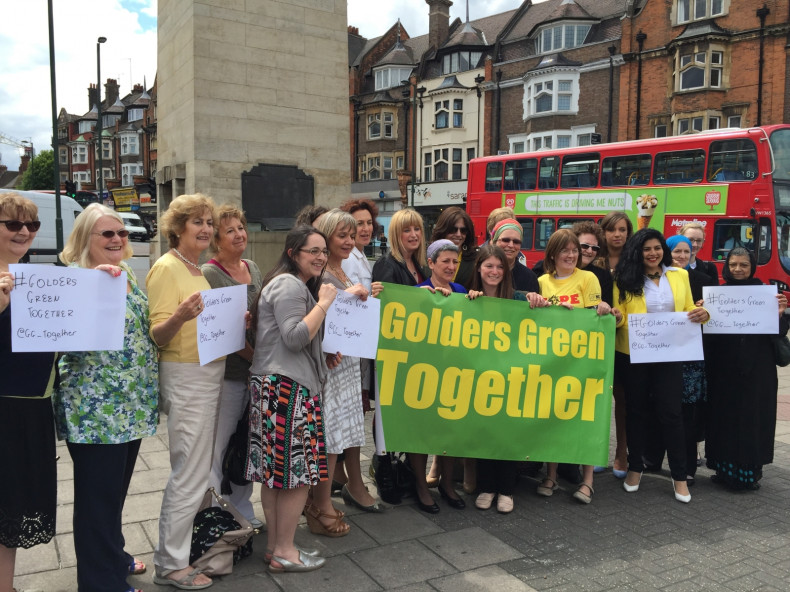 Anti-Semitic graffiti has been daubed on a London Jewish school just hours before the Metropolitan Police moved a neo-Nazi rally planned for 4 July away from the heartland of the community.
The daubing, on 29 June, at Simon Marks primary school in Cazenove Road, Stamford Hill – home to Europe's largest ultra-Orthodox community – was followed a few hours later by an axe0 attack on a car at a nearby synagogue, the Beth Hamedrash Skver.
Members of the Shomrim community security group told the London Evening Standard that the words "f**k the Jews" were scrawled in black marker pen across an entrance sign at the school. This was cleaned off before the children arrived.
"It's disturbing," Shomrim committee supervisor Chaim Hochhauser told the Standard. "They were nasty words. It's being investigated at the moment - we're checking out CCTV but no one has been caught yet."
Hochhauser told the Standard that in the second incident, the vandal was seen "walking up and down the road with an axe".
Police, who are checking CCTV images, do not believe the two incidents are connected.
Meanwhile, the Met has barred a neo-Nazi rally scheduled for 4 July from taking place in Golders Green.
Chief Superintendent Adrian Usher of Barnet Police confirmed to the Jewish Chronicle that the demo would now take place in Richmond Terrace, in Whitehall, central London.
He told the JC: "It has been moved. We just need to make sure there are no legal loopholes.
"We have been trying to get the message out. The right-wing element have posted this out themselves. We want to be absolutely clear about what's happening and what it means for the local community and for central London."
Jewish communal organisations welcomed the move, with the Community Security Trust saying: "This will allow Jewish residents of Golders Green and the surrounding area to observe their Shabbat with integrity and dignity.
"And it sends a strong message of support for British Jews at a time when fears of anti-Semitism remain high.
"The neo-Nazis had sought to protest in Golders Green, as they have previously done in Stamford Hill, and as they plan to do in other areas with notable Jewish communities.
"We will not sit idly by when anti-Semitic neo-Nazis choose to spend their Saturday afternoons agitating against Jews in various areas of north London."
It added: "CST will also keep working with Barnet Police and Barnet Council to ensure that there is a strong policing and security presence in Golders Green over 3, 4 and 5 July. We are aware that various anti-Semitic elements have been very excited by the publicity surrounding the proposed demonstration, including one provocateur who is now remanded in custody after CST brought his social media postings to Police attention. So, the need for stringent security remains."
Senior rabbi to the Movement for Reform Judaism Laura Janner-Klausner told IBTimes UK: "It is absolutely fantastic that people from such diverse backgrounds and communities worked together and united to see off this horrible little demonstration."
Jonathan Arkush, the president of the Board of Deputies of British Jews, said: "The sad little gathering of Nazi admirers was rejected by Golders Green Together and has now been forced out of Golders Green altogether. Our community and many others stood together in unity, pride and strength and we have won. Our Shabbat [Sabbath] will be one of shalom [peace], just as it always should be."
Adrian Cohen, the chair of London Jewish Forum, said: "We are delighted that common sense has prevailed and that a fringe group seeking to spread hate have been banned from demonstrating. The spirit in which the local community have coalesced around our Golders Green Together campaign has been fantastic and underlines the message that there is no place for hate in our communities."