Around 300,000 people have made the perilous journey across the Mediterranean sea this year to reach Europe. While escaping war, persecution, poverty or seeking a better life, many are crossing in unseaworthy and overcrowded boats. So far this year, more than 3,000 people have drowned in the Med. And those who do survive the journey face further danger – they are at risk of exploitation and trafficking.
Nearly three-quarters of migrants taking the central Mediterranean route from North Africa to Europe have experienced exploitation and practices that could lead to human trafficking, according to new research by the International Organisation of Migration.
Many are forced to perform work or activities against their will and without payment. Around half of the 9,000 people surveyed said they had been held against their will during the journey.
Favour, 17, was born in Benin City in southern Nigeria. As the oldest of three siblings, she helped her mother bring up her three brothers. Several months ago, she met a man called John at a market, who offered her work in Spain as a shop assistant, with the travel and accommodation paid for. Despite being scared, Favour accepted the job to support her family.
She left by bus with four other girls around the same age and set off on the long journey northwards. When they reached the Libyan border, they were stopped by the Libyan military and forced to get off the bus.
After John finished talking with the military in Arabic, which she didn't understand, Favour was left with one of them, who took her away to rape her repeatedly. She was beaten and passed out, and woke up the next day on the bus with John and the other girls. When Favour arrived in Tripoli, she realised there was no job as a shop assistant.
She was locked in a house with the other girls and handed over to an older Nigerian woman, who told them they would have to sell their bodies to survive. After a month, the girls were told they were going to Europe. They were brought to a beach where Favour, who had never seen the sea and couldn't swim, could see an overcrowded ship in the distance.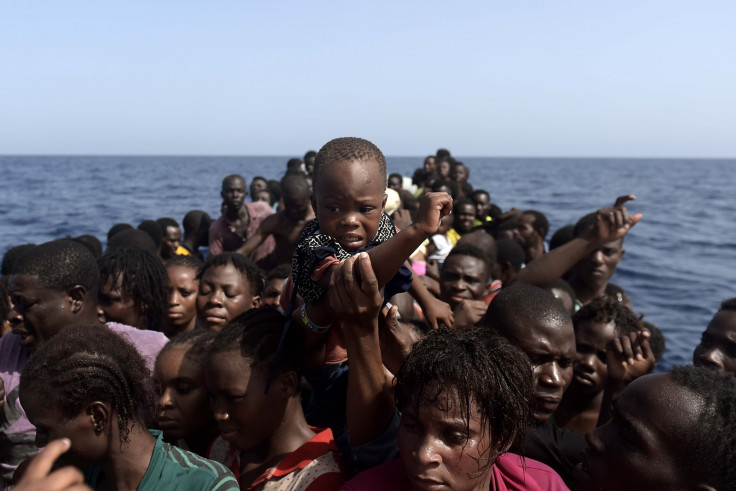 They were to travel alone and were instructed to state they were adults once they had arrived in Italy. Favour was given a number to call once she had arrived. During the journey, the food and water ran out, and when Favour believed she would die, they were rescued by a military ship.
"We know that some of the world's 244 million international migrants are among the most vulnerable to trafficking and associated forms of exploitation and abuse," Dipti Pardeshi, chief of mission for IOM UK, tells IBTimes UK. "Many lack the legal status or recognition of their professional credentials that would allow them to be lawfully and gainfully employed. Many others are disconnected from the social networks to which they might normally turn for support in times of difficulty.
"Perhaps most fundamentally, many migrants lack knowledge of their rights, the financial resources required to assert them, and the confidence that government officials will respect them and treat them fairly."
The majority of cases of abuse recorded by the IOM were reported in Libya, where migrants pass through a system of abuse and corruption due to the country's instability and lack of rule of law.
"Complex and protracted humanitarian and migration crises, such as armed conflicts, further increase vulnerabilities and in some cases, have led to an increase in human trafficking," Pardeshi says.
The longer a migrant spent in transit, the more likely they fall victim to exploitation or trafficking. According to the IOM, 79% of migrants who had spent at least one year in a country different from that of origin had experienced at least one of the exploitative practices.
"While the nature of the survey and data analysis does not allow any strict conclusions to be made about groups of migrants most at risk, from our field work at sea landings and in reception centres in Italy, our IOM team have identified 75% of Nigerian women arriving by sea in 2016 as trafficking victims," says Pardeshi.
Like Favour, many are from Edo State – but also from Delta State, Lagos State, Ogun State and Anambra State. In 2016, over 6,500 Nigerian women have arrived in Italy by sea, already far higher than the total recorded for the previous year.
"The increase of Nigerian women arriving by sea along the Central Mediterranean route is increasing fears that it is becoming a consolidated trafficking route, and vulnerable young women are being targeted by traffickers and exploiters for travel to Italy and possibly other European countries via this route," Pardeshi says.