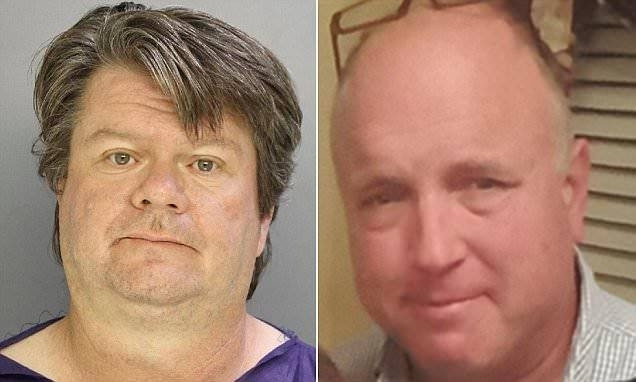 An anti-Trump campaigner has been has been charged with murdering his Republican neighbour after a series of disputes ended in violence.
Clayton Carter allegedly shot George Jennings, both 51, twice in the head outside his Pennsylvania home.
The pair had already been arguing a few hours earlier and police officers were called after Carter pulled a gun, but Chester County police said they managed to diffuse the situation.
However, they were again called back just a few hours later to reports of a fatal attack at 1am on 8 August.
The pair had been involved a series of long-running disputes, neighbours told local TV station ABC 6 News, adding that they were afraid of Carter's unpredictable nature.
ABC reports that his yard was covered with hand-painted anti-Trump signs and was often filled with cars.
Jennings, meanwhile, was a member of the local Chester County Republican Committee, though it is not thought their beliefs were directly responsible for the shooting.
Local police chief Joe Gleason said: "It is a sad situation when neighbours can't put their differences aside for the sake of a peaceful community."
Chester County district attorney Tom Hogan added: "This killing leaves a wife without a husband, a little boy without his father, and a community in shock and mourning."
Doorstep shooting
Police were first called to the address just before 8pm on 7 August because the two men were arguing about swearing and video recording in a back yard.
Officers resolved that dispute, but a few hours they were called back to another argument.
Carter accused Jennings of shining a light into his eyes as he was returning home, and went inside to fetch his Ruger semi-automatic handgun.
Carter went back outside and parked his car up on Jennings' lawn with his lights on full beam, according to the police report.
A heated argument then started and Carter shot Jennings in the head on the victim's doorstep, which knocked him to the ground
Carter then shot Jennings in the head a second time while standing over his body, as the victim's wife watched from inside the house, said the police report.
Carter admitted shooting Jennings but said he acted in self defence after Jennings threatened him with a knife, but officer's said Cater had not suffered any injuries.
Police say they recovered two shell casings from the scene - one from Carter's yard, and one from beside Jennings' body.