As anti-Trump demonstrations escalate in several cities in the US, thousands of protesters took to the streets for the second night on Thursday (10 November), raising concerns that the Republican's win could deal a blow to civil rights.
While most protests opposing President-elect Donald Trump's surprise victory were reportedly peaceful, police in Portland, Oregon said that it turned out to be a "riot" in the city. The Portland Police said on Twitter: "Due to extensive criminal and dangerous behavior, protest is now considered a riot. Crowd has been advised."
In a follow up post, it said, "Crowd throwing projectiles at police. Significant damage to area car lot."
Some demonstrators even sprayed graffiti on cars and building and smashed windows, media reports said.
Responding to the protests, Trump said on Twitter: "Just had a very open and successful presidential election. Now professional protesters, incited by the media, are protesting. Very unfair!"
On the West Coast, Los Angeles, San Francisco and Oakland in California too witnessed demonstrations. And on the East Coast, protesters marched in Washington, Baltimore, Philadelphia and New York. There were no reports of violence in these places, except in Minneapolis where protesters briefly blocked an interstate highway, according to BBC.
Reuters reported that two people were arrested by Baltimore police during the march through the downtown Inner Harbor area.
While hundreds were spotted on the streets in Dallas, media estimate said about 3,000 protesters had gathered on the grounds of the Colorado state capitol in one of the largest of Thursday's events.
The protesters were mainly young people from different racial backgrounds, who complained that Trump's presidency would create a deep division along racial and gender lines.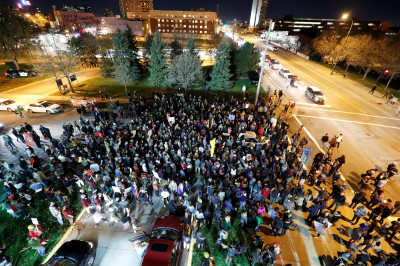 Police erected special security barricades around Trump's newly opened Pennsylvania Avenue hotel hotel in Washington and the high-rise Trump Tower where he lives in Manhattan.
In New York, around 100 people marched from the White House, where Trump met President Barack Obama for the first time since the Republican world the elections on 9 November.
At least 200 people were later seeing raising slogan with many of them chanting "No hate! No fear! Immigrants are welcome here!" Some signboards read "Impeach Trump" and "Not my president".
"I can't support someone who supports so much bigotry and hatred. It's heart-breaking," Reuters cited a protester, Joe Daniels, 25, of suburban Alexandria, Virginia, as saying.