Anti-Trump protests continue for 3rd night, but mostly remain peaceful
New York, Portland, Miami, Atlanta, San Francisco, Philadelphia, Oregon saw protests on Friday.
American citizens continued to express their anger over the surprise victory of Republican Donald Trump in the 2016 presidential election for the third night since the election results were declared. Hundreds of people in several cities took to the streets on Friday (11 November) night shouting anti-Trump slogans and calling for him to pull out of the White House.
More than 200 people were reported to have been arrested so far for indulging in violent protests. Trump protesters thronged the streets of New York, Portland, Miami, Atlanta, San Francisco, Philadelphia, Oregon and other cities on Friday night and threw traffic out of gear.
The Associated Press reported small protests also in Detroit, Minneapolis, Kansas City, Missouri, Olympia, Washington and Iowa City.
Turning away from his previous statement that the protests were incited by the media, Trump's latest tweet on Friday said: "Love the fact that the small groups of protesters last night have passion for our great country. We will all come together and be proud!"
According to Reuters, people in Miami marched through the downtown protesting against Trump's election, while others halted traffic on highways. In New York, people gathered in Washington Square Park and around Trump Tower – the president-elect's residence. Security barricades have been erected around some of Trump's properties, including the newly opened Trump International Hotel near the White House and Trump Tower in New York, Reuters reported.
The latest protests were peaceful, with no arrests, unlike the night before when many demonstrators in Portland turned violent, pelting shops and cars with stones. At least 26 people were arrested in Portland on Thursday (10 November) night.
However, disruption in traffic during the evening due to the demonstrators irked many commuters, with some urging them to accept the election results and stop causing chaos.
Nicolas Quirico, who was traveling from South Beach to Miami on Friday night, was among hundreds stranded on Interstate 395. "Trump will be our president. There is no way around that, and the sooner people grasp that, the better off we will be," he told the Associated Press.
"There is a difference between a peaceful protest and standing in a major highway backing up traffic for 5 miles. This is wrong," he added.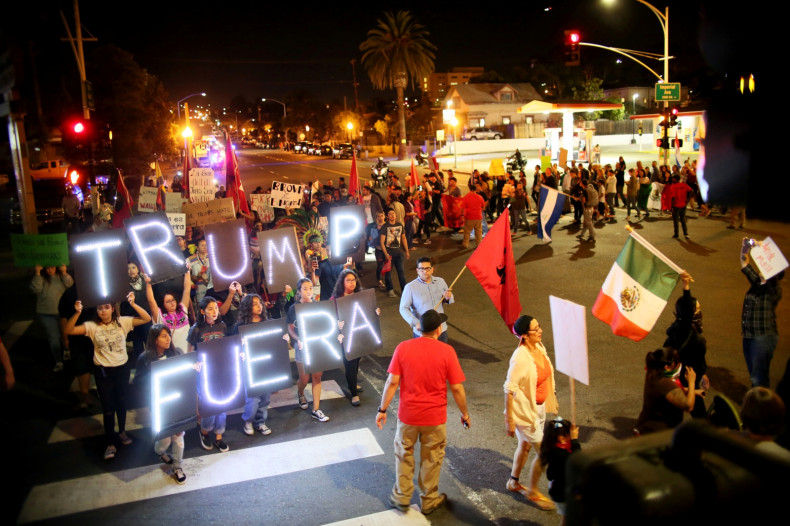 Leslie Holmes, 65, a website developer from Wilton, Connecticut, who took part in the rally in her city described herself as an armchair liberal, but explaining her stance over Trump's victory, she said: "I'm not going to be armchair anymore.
"I don't want to live in a country where my friends aren't included, and my friends are fearful, and my children are going to grow up in a world that's frightening, and my granddaughters can look forward to being excluded from jobs and politics and fulfilling their potential, so I'm here for them," she told the news agency.