Anti-Trump protesters in Mexico are holding marches today (12 February) across 20 cities in defiance over the US president's latest immigration and tax policies targeting the nation.
Scores of people from universities, business associations and civic organisations will be dressed in white and waving the red, white and green of the Mexican flag.
"It's time we citizens combine forces and unite our voices to show our indignation and rejection of President Trump, while contributing to the search for concrete solutions," said the coalition organising the marches, according to a report in Times Live.
It follows the Mexican's government warning that citizens living in the US face a "new reality" following the sudden deportation of a Mexican woman in Arizona who had lived in the US for 20 years on 9 February.
As the protests began to unfold, Mexican presidential hopeful Andres Manuel Lopez Obrador announced he will be visiting the US to address both Mexicans and Americans in Los Angeles about Trump's "poisonous" rhetoric.
"This campaign… of xenophobia, of causing hate, must be confronted. We Mexicans are being persecuted. It's all a political strategy, so I will go to the United States precisely because of this."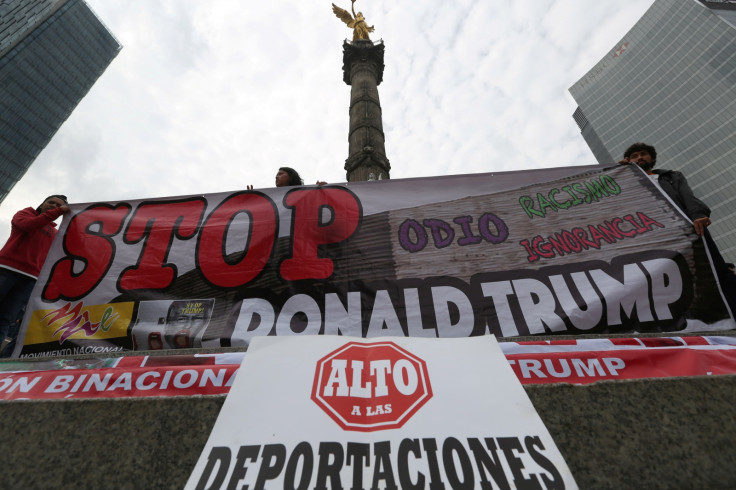 Lopez Obrador, has been labelled by political critics as a "leftist Donald Trump" for his populist, anti-establishment rhetoric.
His popularity has soared since Mexican President Enrique Pena Nieto and his ruling PRI party took a beating from Trump's new administration and his repeated calls for Mexico to pay for a new border wall, which Nieto has refused to accept.
Nieto later cancelled a planned visit to Washington on 31 January, which commentators said could further threaten the future of the North American Free Trade Agreement (NAFTA), which is seen as a steady economic lynchpin between the neighbouring countries since 1994.