Manchester United winger Antonio Valencia says his side are concerned that Monday's defeat to Manchester City could spark an unlikely turnaround in the Premier League title race.
United's lead was cut to 12 points with seven games remaining and memories of how the league leaders relinquished an eight-point advantage last season, allowing City to claim their first league championship for 44 years, remain fresh.
Despite Sergio Aguero's late winner at Old Trafford, United require just 10 points between now and the end of the season to reclaim the title and Valencia says the club must take a giant step towards a record 20th league success during Sunday's trip to relegation threatened Stoke City.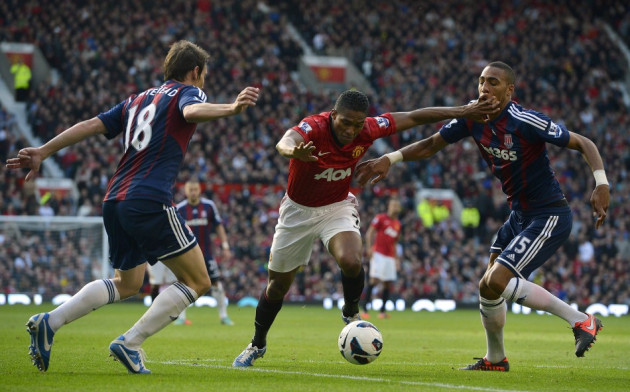 "We're a little worried. It has already happened to us," Valencia told Ecuadorian radio station Sonorama.
"Last year, having eight points with seven games to go we lost the league, and now we have seven games, 12 points and we don't want this to happen again.
"We want to finish off the two games that are coming as soon as possible, starting off in the right way and ending up victorious."
United's title challenge started to crumble last season after defeat to Wigan Athletic, with the draw against Everton then allowing City within touching distance, a gap they breeched in the Manchester derby through Vincent Kompany's winning goal.
James Milner, scorer of City's first in Monday's evening's derby win, hopes the victory doesn't simply work as a marker for next season but that it can put United under real pressure.
"It's never over until it's over," Milner said. "United will still be confident, but we've done all we can do and hopefully we've put a bit of doubt in there.
"It could be a bit of a stumble and if this rocks them, then great. Maybe last season will play on their minds, who knows?
"I'm sure they were hurt by what happened last year. As great as it was for us, it was equally as bad for them.
"That's probably driving them on to make sure it doesn't happen again, but we've done what we can and we'll see what happens.
"People can say that it is over, but in the dressing room we still think it's mathematically still possible, so we'll take it game-by-game and try to win our remaining games.
"We know it's very unlikely. United have plenty of experience at closing out titles and they probably haven't had too many gaps as big as this before."