APEC Summit benefits the rich and causes poverty and inequality: Manila protesters
Security forces used water cannons to prevent about 1,000 demonstrators from disrupting the Asia-Pacific Economic Cooperation (APEC) Leaders' Meeting in Manila, as world leaders – including US President Barack Obama, Chinese President Xi Jinping, Japanese Prime Minister Shinzo Abe and Russian Prime Minister Dmitri Medvedev – gathered for a group photograph.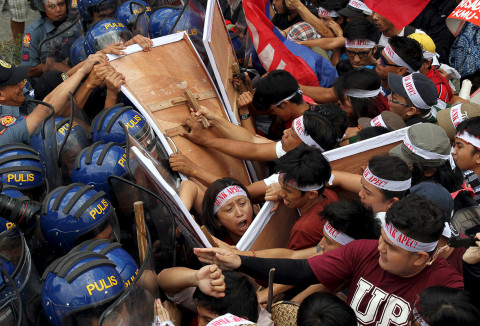 The demonstrators chanted slogans such as "We will struggle!" and "Junk APEC!" while anti-riot police pushed the crowd back. At least one policeman was injured, the Philippine National Police spokesman Wilben Mayor told reporters. He appealed to protesters to halt their actions, but said the police would exercise maximum tolerance.
The activists, who have decried Manila's hosting of the summit, said their protests would continue despite heavy security. "These demonstrations will not stop, even if it means we have to go head-to-head against the entire police force and we have to break through all the barriers," said Charisse Bernadine Banez, the chair of the League of Filipino Students activist group. "The youth have been doing this for several days already, and we will not stop because we want the whole world to know just how much the Filipino people puke on the APEC."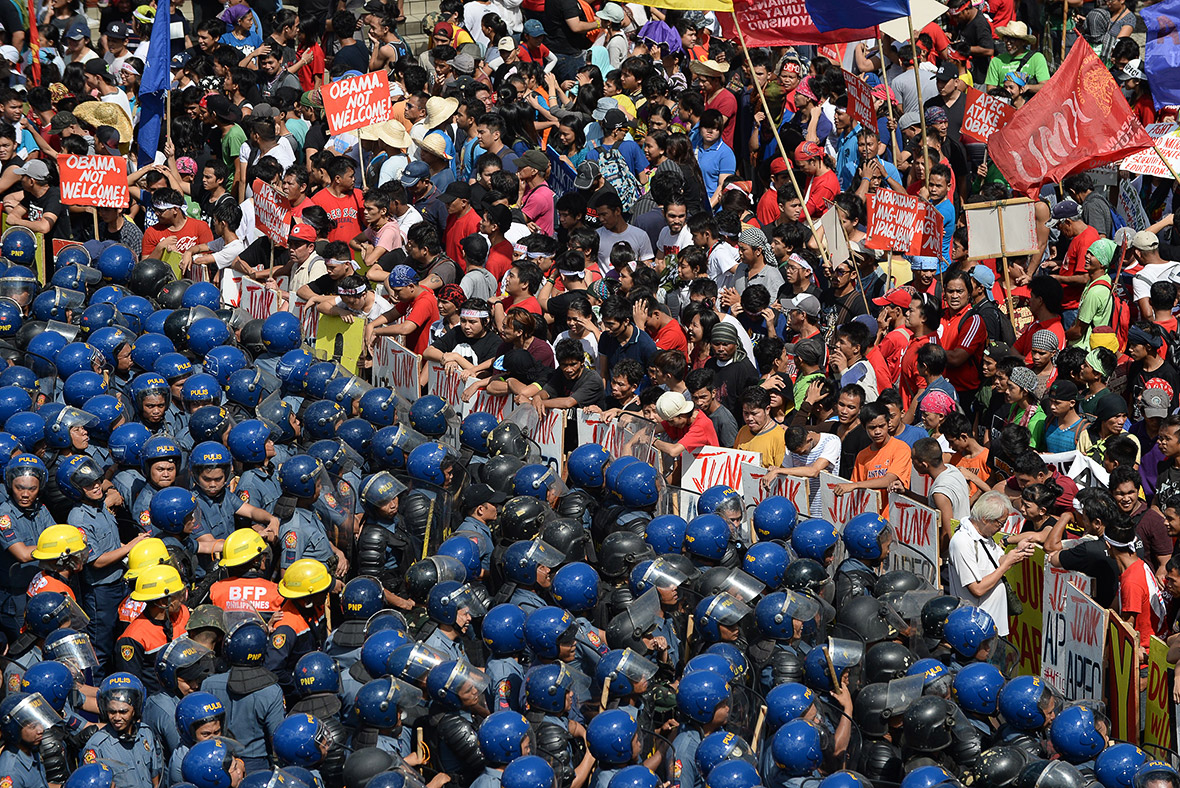 Human rights and pro-labour groups have been protesting against the APEC Summit, saying it works to benefit only multinationals and rich countries at the expense of developing economies. APEC, which accounts for 60 percent of global output and nearly half of world trade, is aiming for a larger free-trade area for its 21 economies by 2025, but a re-emergence in some states of protectionism as growth stutters could be a hindrance.

President Benigno Aquino III has vowed to fight poverty and corruption. His government says poverty levels have decreased a few notches. Aquino and his officials, however, acknowledge that poverty remains a formidable problem.
Protest leader Teddy Casino had a message for world leaders at the summit: "If you stay just in your hotels and the convention centre and the classy malls, you'll be seeing only 1% of the Philippines. I invite you to visit nearby communities or even just cross the street and you'll see the truth that's being hidden from you."