APEC Summit 2015: Hundreds protest against US foreign policy ahead of summit in Philippines
Hundreds of demonstators took to the streets in Manila ahead of the APEC conference in the city, protesting against the appearance of US President Barack Obama and denouncing what they called an interventionist foreign policy by the US.
Ahout 300 people marched a day before the opening of the Asia Pacific Economic Cooperation Summit, which takes place in the Filipino capital from 18 November.
Bagong Alyansang Makabayan (New Patriotic Alliance) spokesperson Diego Torres said: "Today, Obama will arrive in the Philippines, and this is our welcome for him – a protest that rejects his presence because we do not want the leader of the United States, the chief architect of aggression and cruelty towards many nations around the world, to land in the Philippines."
APEC accounts for 60% of global output and nearly half of world trade. Some human rights and pro-labour groups have been protesting against the summit, saying it is a vehicle for corporations and rich nations to protect their interests at the expense of smaller economies.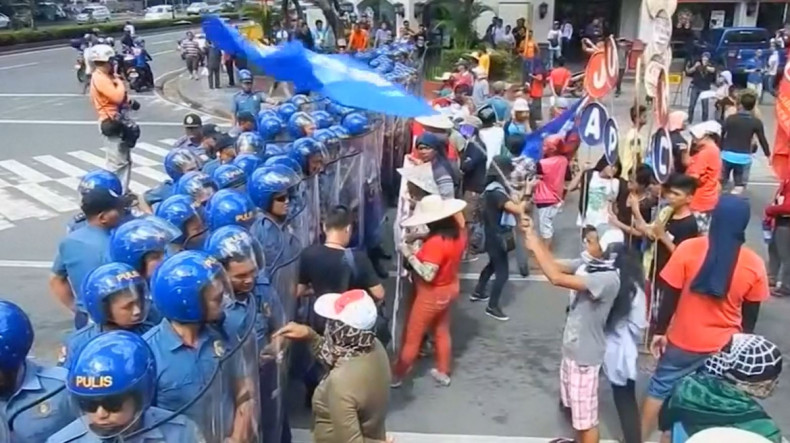 The summit has also caused travel chaos across the capital, with an extra 30,000 police, security and emergency services being brought into Manila. Several roads and highways have been closed, causing gridlock.
Many workers have complained about these measures, which have made it difficult for them to get to work.
Rickshaw driver Imelda Romero said: "We're forced to take a rest, even our tummies have to take a rest. We just have to be patient, and we have to make ends meet, with whatever amount we can earn during these days."
Philippine National Police spokesperson Wilben Mayor said: "Our appeal to our citizens for this time is, give us the chance to do our job. We appeal to the public and we apologise. Please try to understand the security measures being implemented by the security forces."
The APEC Summit takes place from 18-19 November.