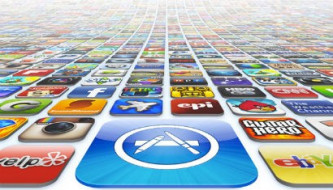 Apple's App Store recorded more than $10 billion (£6bn) in sales for 2013, with $1bn coming in December alone, as iOS users downloaded almost three billion apps in the single month.
Since launching in 2008, the App Store has earned its contributing developers more than $15bn, and now boasts more than one million applications of iPhone, iPod touch and iPad users; 500,000 of these are optimised for the iPad's larger screen.
"We'd like to thank our customers for making 2013 the best year ever for the App Store," said Eddy Cue, Apple's senior vice president of Internet Software and Services. "The lineup of apps for the holiday season was astonishing and we look forward to seeing what developers create in 2014."
The year saw Apple launch iOS 7, its biggest-ever update to the iPhone and iPad's user interface; the changes gave developers the chance to update their apps and take advantage of a range of new APIs (application programming interfaces).
Some of the most popular applications of 2013 include Candy Crush Saga, Puzzles & Dragons, Minecraft, QuizUp and Clumsy Ninja.
The App Store is now available to users in 155 countries and offers applications split across 24 different categories, including newspapers, magazines, games, business, sport, social networking, travel, and social networking.
For 2014, Apple is widely expected to launch a smartwatch - dubbed iWatch - which is expected to communicate with existing iOS devices and make further use of their applications. If the wrist-worn gadget employs its own version of iOS, then the App Store could well develop an extra category to cater for iWatch owners and developers.