My children have played Pokémon games on the Nintendo DS, watched the cartoons starring Pikachu and his friends, traded the playing cards and even bought the little plastic figurines, all some years ago. So surely the Pokémon phenomenon is today passé?
Not at all; far from it, in fact. The recently-released Pokémon Go smartphone game app (available on iOS and Android) has breathed new life into the whole Pokémon franchise.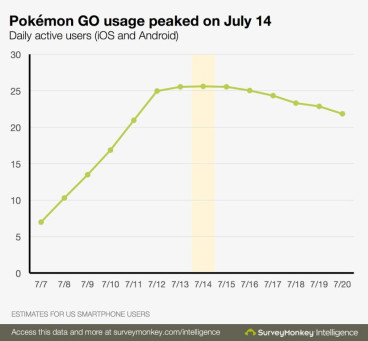 Released first in the US at the beginning of July, and now available in a number of other countries, too, now including Japan, the Pokémon Go outdoor augmented reality game generated more downloads in its first week than any other app in the history of the US Apple App Store. The game has since risen to the top of the US iTunes Free and Top Grossing app chart, reaching well over 20 million active daily users (SeeChart 1).
Who is profiting from the Pokémon go phenomenon? Nintendo...
Released as a "freemium" game where the app itself is free to download, but where users can then purchase credits for add-ons and accessories to the game via the Apple App or Google Play stores, Pokémon Go is already generating revenues estimated at $1.6m (£1.2m) per day on Apple iPhones (just in the US), and another estimated $700,000 from Android users.
According to top analytics firm App Annie, this daily run rate could convert into an annual revenue run rate of $1bn per year.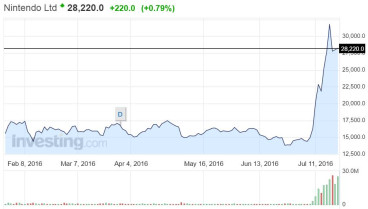 Stock market investors have latched on to the exponential success of Pokémon Go by bidding up the shares of Japanese computer game maker Nintendo (code: 7974 in Tokyo), leading to a near-doubling of its share price in a matter of days (See Chart 2).
Given that Pokémon is almost exclusively associated with the Nintendo games, this is understandable. But not necessarily correct.
Remember that Nintendo is not the creator of the Pokémon Go game, and thus does not actually receive the bulk of any profits from the game.
Niantic, a spin-off from Google, is the actual game developer. Equally well, the trademarks and rights to all the Pokémon characters are not owned directly by Nintendo, but by the Pokémon Company, which is jointly-owned by Nintendo together with two other companies, Game Freak and Creatures.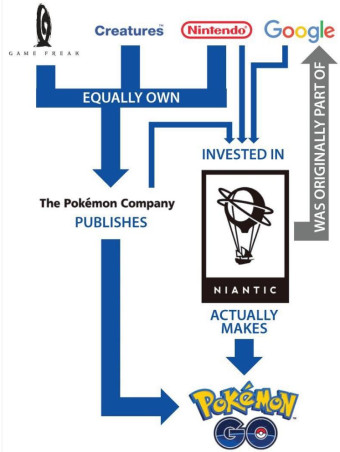 Chart 4 gives the estimated split of revenues earned from Pokémon Go through the iTunes app store from iPhone users of the game.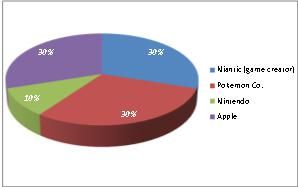 Of every 100 units purchased through the App Store, 30% goes to the creator of the app, Niantic (a computer game spin-off from Google which is partly owned by Nintendo), 30% to the Pokémon Company which holds the character trademarks and just 10% directly to Nintendo.
Apple could be the biggest beneficiary from Pokémon Go
As Apple takes a 30% cut of all revenues collected through its App Store, they could actually be the biggest winner from Pokémon Go's success.
Bear in mind that Apple ultimately made $2bn in the first two years of availability of another runaway iPhone app success, King Digital's Candy Crush Saga (now owned by Activision).
According to Laura Martin, an analyst at the US broker Needham, Apple could ultimately make as much as $3bn in revenues in the next two years from Pokémon Go.
Now, investors have become increasingly cautious over Apple's shares given predictions of a slowdown in iPhone sales, with analysts predicting the first yearly decline in iPhone volumes this year. For this reason, Apple's share price has declined from $120 to under $100 in the past year, even as the benchmark S&P 500 stock market index has hit new all-time highs.
But with Apple service-related gross profits rising from just $3.2bn in 2010 to $14.5bn currently, investors are perhaps under-estimating this growth given the success of the App Store, Apple Pay and iCloud.
Ultimately then, investors looking to cash in on Pokémon Go's runaway success might be best served by buying into Apple (US code: AAPL).
One easy way for UK-based investors to get exposure to Apple shares is via the Powershares EQQQ Nasdaq-100 ETF (UK code: EQQQ) which offers shares priced in pounds sterling, and which holds 10.6% of its portfolio in Apple shares...