Apple's discounts on major shopping days Black Friday and Cyber Monday have boosted the company's share price.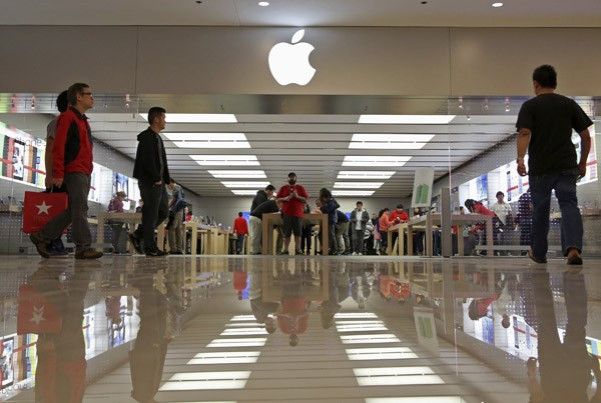 The start of the Christmas shopping period has been a very good one for Apple, according to multiple analysts who have increased their price targets for Apple. The company's stock may still be some way off its $700 dollar high of September 2012, but it has been steadily climbing since dropping below $400 earlier this year.
To mark Black Friday, seen as the beginning of the Christmas shopping period, Apple discounted the price of its iPads, iPods, and Macs in the UK, while elsewhere such as the US and Australia it offered gift cards to those buying its products.
While Apple is not offering any deals to mark what has become known as Cyber Monday, it is still set to benefit from what is expected to be one of the busiest online shopping days in the lead up to Christmas.
Fortune has rounded-up a number of analysts' notes on Apple following the weekend's shopping, with Trip Chowdhry raising his target price to a high of $800 - Apple is currently trading at $557.
Chowdhry, an analyst with Global Equities Research, is basing his higher price on visits to Apple stores and Target retail stores over the weekend, talking to "no less than 300 people."
Chowdhry reports that the 128GB iPad Air and 128GB iPad mini were the most popular products, with Wi-Fi versions outselling cellular-enabled iPads three to one.
Conservative
Noted Apple analyst Gene Munster monitored some 90,000 tweets with the iPad being the most mentioned product on #BlackFriday and the iPhone for #CyberMonday. Based on his analysis, he suggests his own predicts of 24.5 million iPad sales for the December quarter may now be "conservative."
Brian White from Cantor Fitzgerald said: "We believe this increased tablet appetite is a clear positive for Apple with the recently introduced iPad Air and iPad mini with Retina Display, combined with the discounted first-generation iPad mini."
Apple saw iPad sales remain static in the previous quarter at 14.1 million units, as a lot of users will have been waiting for the launch of the iPad Air and iPad mini with Retina Display.
Looking at the iPhone, figures released today by Kantar Worldpanel Comtech show that the iPhone 5s is outselling the cheaper iPhone 5c three to one in the UK. However both smartphones are in relatively strong demand with Apple's market share rebounding somewhat to 28.7% in the UK - though this in turn is down from over 32% in the same month in 2012