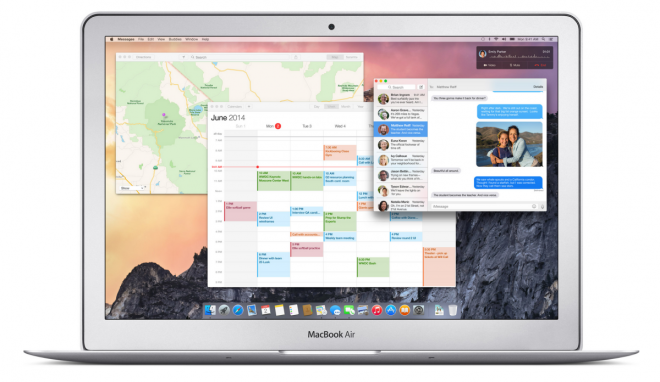 Apple has launched a heavily resesigned version of Mac OS X with the Yosemite update borrowing a lot from the design of iOS 7 with translucent windows, flatter icons and a redesigned Notification Center.
Apple launched OS X 10.10 at its annual Worldwide Developers Conference in San Francisco on Monday alongside iOS 8. The conference is aimed at developers who will get their hands on the Yosemite update first before the final consumer version is launched later in the year.
The update to last year's Mavericks upgrade focuses more on the look and feel of the operating system, compared to the under the hood updates which Mavericks brought.
The design Yosemite is much flatter of mimicking the look of iOS 7 with most icons getting a significant update.

Another major update to the system is an update to the system's search function, called Spotlight. Pressing the space bar will now see a search bar pop up in the middle of your desktop, and just by typing a few letters you will be able to launch apps or open documents.
You will also be able to get results from Wikipedia, film reviews as well as carry out conversions directly on your desktop.
The Yosemite update also brings updates to the Notification Center which looks a lot more like the Notification Center in iOS 7, and gives you the ability to edit what updates you see.
iCloud Drive and Mail Drop
Apple has also announced a Dropbox alternative, called iCloud Drive which will allow you sync contact in the cloud across all your devices - Mac, iOS or Windows.
Apple also announced a new feature for sending large files (up to 5GB) in with Mail Drop, which sees an attachment sent through iCloud syncing with the message on the other side. If the recipient has a Mac too they will see the message as normal, those with another email client will get a link to a secure download.
Mac OS X Yosemite will be released to developers this week, with the consumer version being released in the autumn, at no extra cost. There will be a consumer beta program available for those interested in giving feedback to Apple.