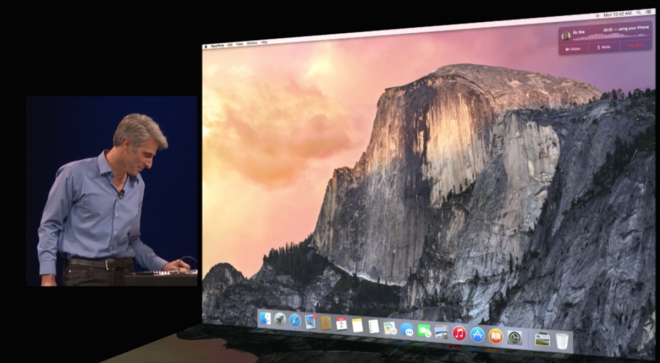 As part of the update to Mac OS X Yosemite desktop software, Apple will allow iPhone users to make phone calls and send text messages directly from their laptop or desktop computer.
As part of a feature called Continuity, Apple will allow users to make and take phones calls, as well as see SMS messages from contacts directly on the desktop - via their iPhone.
Until now, Mac OS X users have been able to get messages from other iPhone users through iMessage on their desktop and lpatop computers, but the Yosemite update will expand that ability greatly.
To demonstrate the feature Apple executive vice president Craig Fegerighi showed off the calling feature by calling new Apple employee and co-founder of Beats Dr. Dre.
Making and taking phone calls is just one part of the continuity features which sees Apple bringing the use of iOS and Mac OS X devices closer together.
The other big announcement was Hand-Off, a feature which allows you to continue working on something from your iMac to your iPad or iPhone (and vice-versa) which works by the systems recognising other devices on the same network.
A small icon will appear in the bottom left hand corner of the lock screen of your iPhone or iPad and swiping it up will give you access to whatever you had been working on previously.
AirDrop now also works between iOS and Mac and an instant hotspot feature means you can automatically use your iPhone's internet connection without having to enter a password.