Apple has been granted its first patent related to a vehicle. But unlike the electric car everyone is expecting, the patents describe an articulated vehicle with tank tracks.
Specifically, the patent details the steering device of an articulated vehicle. These vehicles come in many shapes and sizes, such as trucks with trailers, trams, military vehicles and London's now-extinct 'bendy buses'.
Filed in July, 2015, the patent was granted on 9 August, 2016. While it is believed to be Apple's first patent related to a vehicle (beyond the iPhone's CarPlay system), it is a long way from anything resembling the widely-rumoured Apple car, codenamed Project Titan.
Having been worked on by Apple for almost two years, Protect Titan is believed to be an electric car with some autonomous features.
The car is still many years away from launch, and is not expected to reach production until at least 2021. The secretive sub-division of Apple is claimed by Elon Musk to be an "open secret" with over 1,000 employees, and is being led by Bob Mansfield a former senior vice president at the company.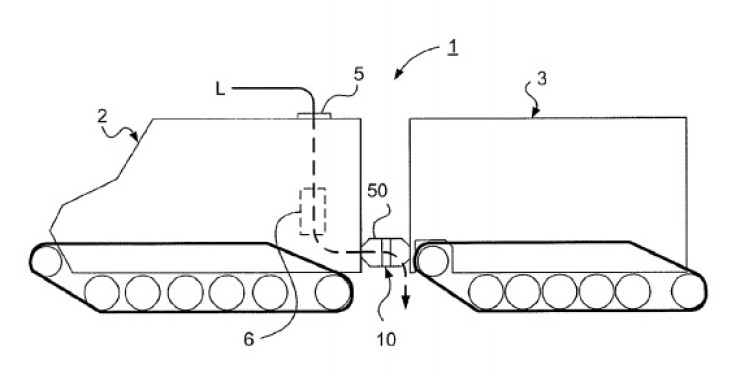 The patent, first discovered by Patently Apple, details an invention which is claimed to improve the reliability of an articulated steering system used in cold weather conditions. The system feeds warm air through where the two halves of the vehicle join, reducing the risk of damage being caused by snow and ice build up.
Drawings submitted with the patent show a two-part vehicle with tank tracks instead of wheels. Either Apple is working on a vehicle to be used within its own factories, well away from the public, or the design here is intended to distract speculators from what kind of vehicle Apple is really developing.