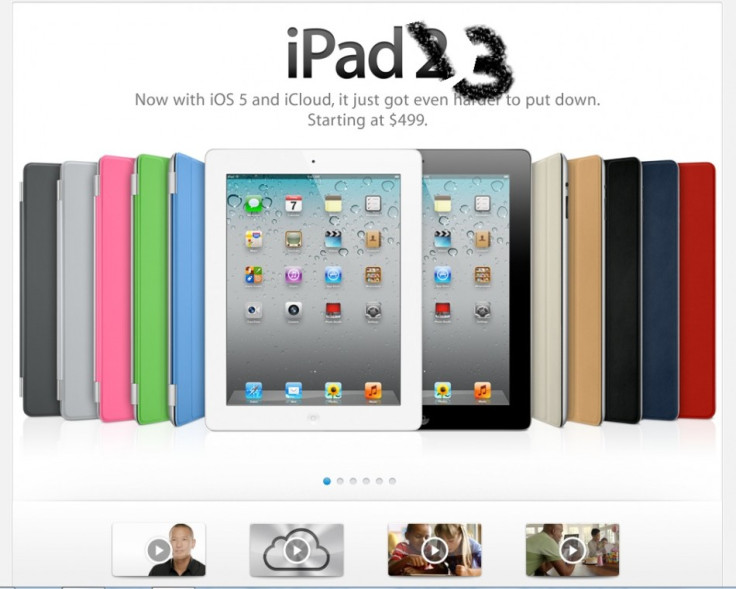 With Apple's new iPhone 4S now out and the thought of the iPhone 5 a distant memory, speculation has turned to the company's, unconfirmed, iPad 3.
So just to help you, the "lucky" reader, meet your daily quota for tech gossip, the IBTimes offers a complete breakdown of all the latest unsubstantiated internet waffle regarding not just the next iPad, but also its, currently fictional, chief competitors.
Apple's Third iPad
New reports have emerged suggesting Apple plans to launch an upgraded version of its current iPad 2 in March 2012, with a truly next-generation iPad 3 device following later in 2012's third quarter.
The report initially stemmed from the Digitimes, which claimed Apple's tweaked iPad 2.5 will enter mass production "soon," to allow for a March 2012 release.
Again citing a series of mysterious unnamed sources, the Digitimes went on to allege that Apple would follow the upgraded iPad 2 with a truly next-generation "real iPad 3" in Q3 2012.
The Digitimes offered no solid information on what upgrades would be made to make the new iPad 3 a true upgrade to Apple's current iPad 2.
The only information offered on either -- currently unconfirmed -- device, was that the iPad 2.5 would be thinner and have a longer battery life than Apple's current iPad 2.
As was the case with its previous slew of iPhone 5 and iPhone 4S rumours, Apple is yet to offer any firm information on either of the devices listed in the Digitimes' report.
The Prospect of Nokia's Windows 8 Tablet
Nokia issued a statement once again "confirming" it maybe/might/could, be interested in creating Windows 8 tablets in the near future earlier in November.
Speculation regarding a potential Nokia-built Windows 8 tablet emerged the moment Nokia inked its deal to use Microsoft's Windows Phone OS to run its smartphones.
The speculation re-emerged just after Nokia unveiled its news series of Windows Phones, when CEO Stephen Elop dropped a slew of hints about a potential Windows 8 tablet during an interview with Bloomberg.
In the interview Elop described Windows 8 as a "supercharged" version of Windows Phone tailor made for use on tablets. "There's a new tablet opportunity coming," Elop commented on Windows 8's potential.
"We [Nokia] see the opportunity. Unquestionably, that will change the dynamics," elaborated Elop, when questioned about the Windows 8 tablet's potential to combat the Apple iPad's current hold on the market.
When questioned about the Elop's comments Nokia representatives were quick to reiterate the CEO's definitely-maybe sentiment.
"We have not announced any specific plans as it relates to tablets. What we have said is that we recognize from an ecosystem perspective that there are benefits and synergies that exist between Windows, Windows Phone and other platforms, where people are looking for complete digital experiences across the smartphone to PC to tablet, the TV and the automotive industries," commented a Nokia representative when asked about the company's tablet plans.
Later adding, "[t]here is a lot of opportunity out there. That's what makes this industry so exciting!"
Irrespective of whether Nokia finally gets off the fence, Microsoft Windows 8 tablets are definitely on the way.
Back in September, in a bid to boost interest in its forthcoming Windows 8 operating system, Microsoft reportedly handed out 5,000 new Samsung tablet computers running a test version of Windows 8 at its annual developer conference.
However, when the promised tablets will appear remains up-in-the-air. Microsoft are yet give the new tile-heavy OS a firm release date.
A New HTC Tablet
According to Reuters, the fifth largest smartphone maker made the announcement during a media briefing earlier in November.
"It's a market we would like to try and test, to see whether we can make ourselves stand out and prevent a me-too product," Reuters quoted HTC CEO Peter Chou as saying.
The news of the new tablet comes just after HTC amended its sales forecasts for the fourth quarter, warning that they would be lower than those of the Q3.
Outside of the vague announcement, HTC revealed no other details about the mysterious new device.
The company originally entered the tablet market in May when it released the Flyer.
Despite housing some nifty features, including its own stylus designed to work with its capacitive touchscreen the Flyer received a tepid, mixed reaction by critics and consumers.
The Chief criticisms being poor battery life, a slightly slower than is to be expected 1.5GHz single core processor and steep £600 opening price tag -- for the 32G version.
HTC responded to requests for confirmation regarding Reuters' report saying "HTC doesn't comment on rumour or speculation."