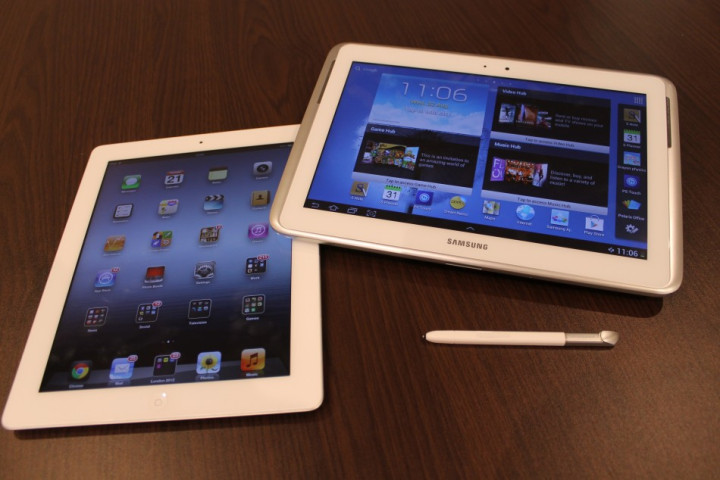 Introduction
Despite being locked in the middle of a multi-billion-dollar legal battle, Apple and Samsung's relentless product development shows no signs of slowing and now the South Korean company has got one over on its California rival with the Galaxy Note 10.1 tablet and its S-Pen stylus.
But will the lure of a tablet that can display two applications at once, convert handwriting to text and offer the novelty of a stylus, prove to be a rival to the market-dominating iPad?
Key Features
10.1in LCD display, 800 x 1280 resolution
Quad-core 1.4GHz processor
2GB RAM
5 megapixel camera
S-Pen and handwriting recognition
Price as reviewed: £399.95 (16GB, Wi-Fi)
9.7in Retina Display 1536 x 2048 resolution
A5X processor with quad-core GPU
5 megapixel camera
iOS 5.1
11,500mAh battery
Price as reviewed: £399 (16GB, Wi-Fi)
Galaxy Note 10.1 vs iPad: Design and Build Quality
Both companies here have clearly borrowed from their flagship smartphones when it comes to the design of these two tablets, with Samsung especially recycling its Galaxy S3 smartphone for both the hardware and its TouchWiz-covered Android software.
The iPad has always felt like a quality device since it first launched in 2010, and the newest, third generation model is no exception. With its aluminium back and glass front, the iPad feels like it's worth every penny of the £400 asking price - but this quality comes at a cost, and that is weight.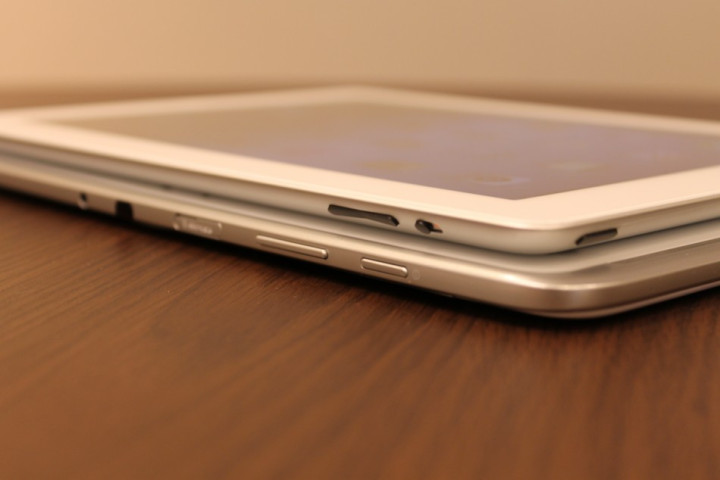 Tipping the scales at 652g, the iPad has put on 50g since the second generation and it really shows, as holding it in one hand for a long time is uncomfortable.
On the other hand, the Galaxy Note 10.1 opts for an all-plastic construction that keeps the weight down to 600g. We wish that silver band around the edge was aluminium, instead of merely pretending to be, but at least it helps to keep the Note light.
With regard to build quality, we were a little disappointed to feel the plastic back of the Note 10.1 bend and compress when pressure is applied to it, even when you're holding the tablet lightly.
The iPad's aluminium case is noticeably heavier than the Galaxy Note 10.1, but with weight comes a sense of value and high build quality. Samsung has done a good job with the Note, but like the Galaxy S3 smartphone before, it feels cheaper than its £400 price tag.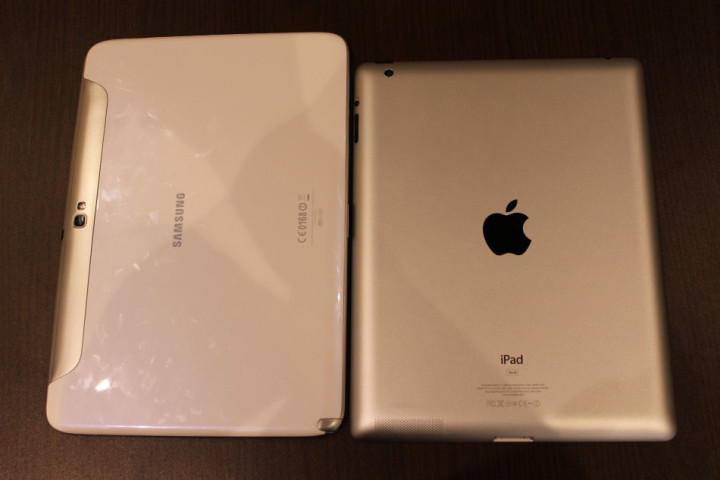 Galaxy Note 10.1 vs iPad: Screen
It almost goes without saying that Apple wins this round with the iPad's Retina display, but the Note shouldn't be discounted right away.
Although the resolution is half that of the iPad, Samsung has given its best shot to produce a screen that is very bright and produces colours excellently, but having the same resolution as the much smaller 5.3in Galaxy Note smartphone is a letdown.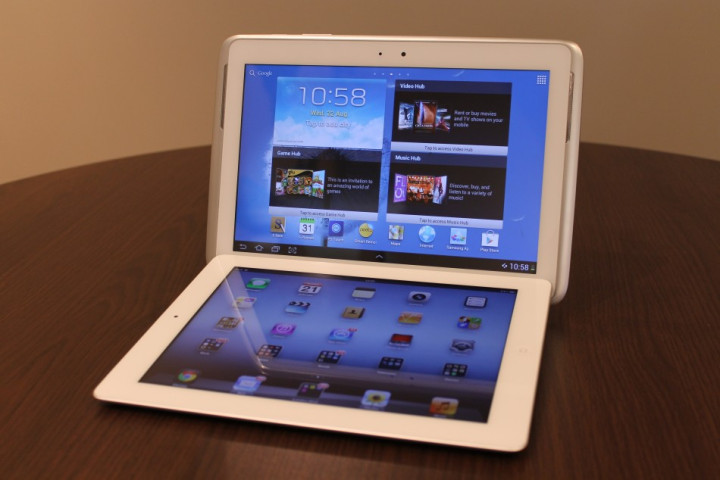 The Samsung display can still produce HD video with no problems at all, so we urge readers not to get too caught up in the battle of resolutions and pixel density, it just hasn't quite got the sharpness of the iPad, in the same way that Apple's tablet is a bit heavier - it's not the end of the world.
On question we do have however, is how Samsung is able to manufacturer the Retina Display for Apple but not produce a similar one for its own tablets.
Away from counting pixels, the Note's screen is responsive to fingertips and the S-Pen stylus, which we enjoyed using to navigate through the operating system, is not just for handwriting and drawing.
Tapping away at the screen with a stylus might look a bit 1990s, but Samsung has done a good job here by teaming up with graphics tablet maker Wacom to make the technology as responsive and intuitive as possible.
There's a large range of third party styluses for the iPad, but these all feel - and perform - more like a chunky permanent markers, compared to the highly-sharpened pencil the S-Pen comes close to replicating.
As for brightness, both tablets can be turned up to brighter than you would ever need indoors, and both go some way towards being usable in sunlight. We found the iPad to shine slightly brighter, but there's really not much in it.
Galaxy Note 10.1 vs iPad: Connectivity and Hardware
Neither tablet uses the near-industry standard microUSB connection for charging and syncing; instead, Apple and Samsung have both opted for proprietary dock connectors that look remarkably similar to each other.
Apple could arguably justify this as the 30-pin cable has been part of the company's products for nearly a decade, with an enormous collection of third party accessories to work with it. But Samsung port hasn't got to anywhere near the same scale, so we feel it should have stuck with the microUSB connector as used by its smartphones.
Away from this, Samsung wins a point over Apple by including a microSD card slot in the Galaxy Note 10.1, which means the built-in 16GB of storage can be increased by up to 32GB - with the iPad you're stuck with what you buy, so either 16GB, 32GB or 64GB depending on the size of your wallet.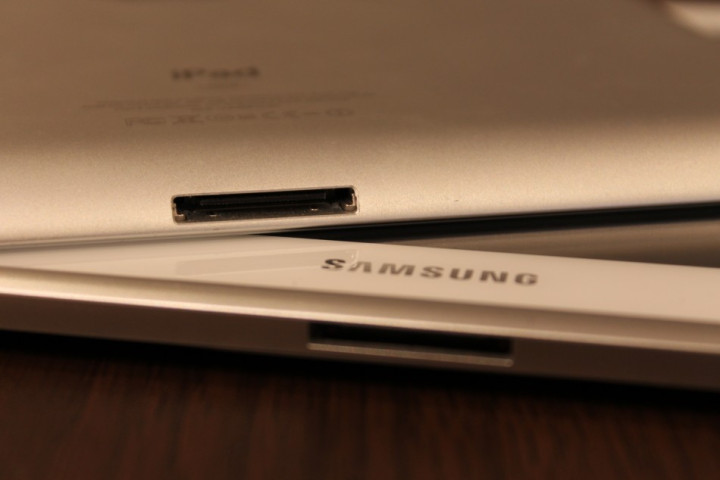 Both tablets have front- and rear-facing cameras and both feature 5-megapixel sensors with autofocus on the back, while the Galaxy Note 10.1 also has an LED flash and its front camera is of higher quality than the iPad's.
Samsung places its speakers at the front, either side of the Note's screen, and while this suggests the sound will be good, we found it to be on par with the iPad - loud enough, but not room-filling and the quality drops as volume increases.
Placing the speakers there does have an advantage though, as it prevents them from being accidentally covered by your hands, which can happen with the iPad's speaker, located on the lower-left corner.
An interesting difference between the two tablets is that Samsung suggests that the Galaxy Note 10.1 should be used in landscape - due to which way up its logos are placed and where the cameras are - while the iPad is designed for portrait use.
Elsewhere, both tablets have a 3.5mm headphone jack, screen lock / power button and a volume rocker, but the Galaxy Note 10.1 also features an infrared transmitter to work with the included Smart Remote TV app to control a wide range of televisions and home cinema equipment.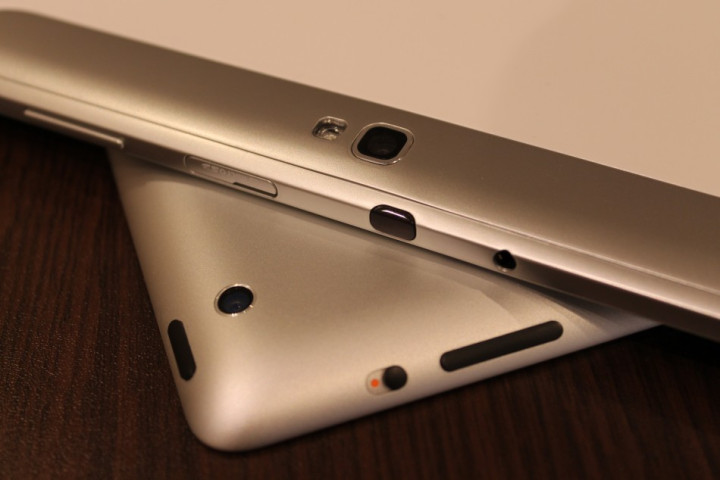 Inside, it's the Samsung that has the upper hand - on paper at least - with its quad-core 1.4GHz processor out-powering the Apple A5X chip in the iPad, which is dual-core and clocks in at 1GHz.
Samsung has given the Note 2GB of RAM, while the iPad makes do with 1GB.
This being 2012, both tablets have Wi-Fi 802.11 a/b/g/n and Bluetooth capable of talking to a wide range of devices and streaming music to wireless speakers and headphones.
Galaxy Note 10.1 vs iPad: Performance and Operating System
Choosing between iOS 5 and Android 4.0 (Ice Cream Sandwich) is always going to boil down to personal preference, as both operating systems are entirely capable - it just depends what you're wanting to get out of your tablet, and which system you are familiar with.
Apple offers a much larger choice of tablet-optimised apps in its App Store, and Android's Google Play has been known to serve up more rogue and harmful software, but this isn't an issue if you've got your wits about you.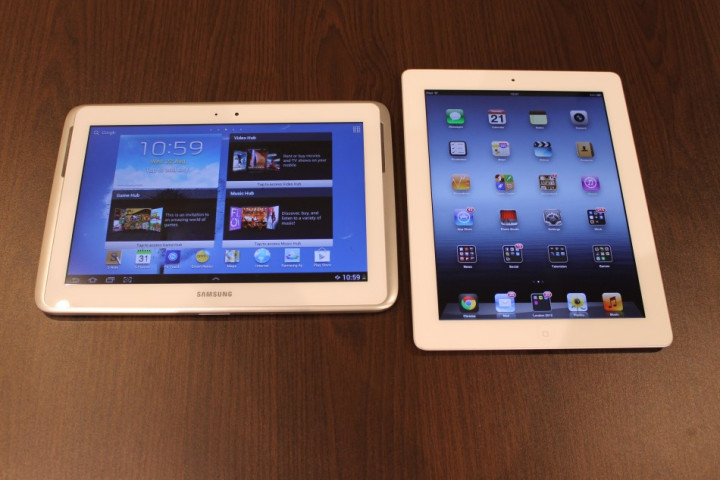 Although the Galaxy Note 10.1 wins on paper when it comes to performance, there's more to the story than that. Both tablets are perfectly capable of running just about any app or 3D game you throw at them, and multitasking is performed effortlessly by both as well.
With the Galaxy Note 10.1, Samsung introduced Multiscreen, which lets you have two applications open and on screen at the same time. We found that this feature, while not available at all on the iPad, did not work very well, and there was an obvious two- to three-second delay while each app became responsive as we switched from one to the other.
This is perhaps something Samsung can iron out in a future update to its TouchWiz Android interface, but for now it reminds us that tablets aren't yet capable of replacing laptops entirely.
Speaking of TouchWiz, Samsung's Android skin reminds us of the Galaxy S3 smartphone with its 'inspired by nature' design.
S3 users will be familiar with most of it, from the water ripples on the lock screen, to Samsung's use of wallpapers and annoying beeps when tapping icons.
Thankfully, the beeps can be turned off and of course the wallpaper can be changed to whatever you want, but TouchWiz remains and it's a bit of a love-or-hate relationship.
Die-hard Android fans will hate how covered-up Ice Cream Sandwich is and just how many Samsung apps have been allowed through the gate. S Note is fine, but S-Planner is a calendar application similar to the one on the iPad, complete with fake leather details, which offers nothing more than the regular Android planner does.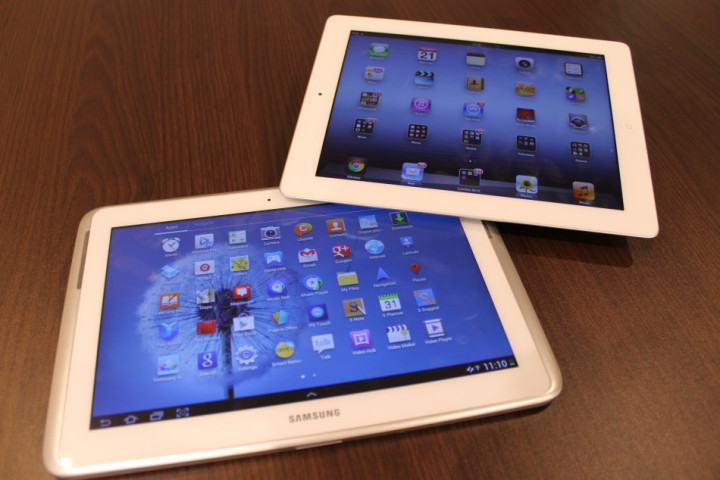 TouchWiz lets you have up to eight home screens to fill up with applications and widgets.
In the other corner, Apple has given the iPad iOS 5, so it's almost identical to an iPhone or iPod touch to use, except the apps are subtly redesigned to take advantage of the iPad's larger display.
We're fans of iOS as much as we are of Android, and with iOS 6 due out in the autumn and set to bring Siri and a whole range of updates to the iPad, Apple is by no means happy to rest on its laurels.
Both tablets offer a comprehensive, powerful and easy-to-use operating system with the Apple App Store and Google Play both providing a huge number of free and paid-for applications to download.
A criticism we have is the lack of tablet-optimised applications for Android, with Twitter and Facebook both looking like the smartphone versions, but stretched to fill the larger screen.
As the iPad will get iOS 6 in the autumn, we are expecting Android Jelly Bean to arrive on the Note 10.1 in the coming months as well.
Galaxy Note 10.1 vs iPad: Value
Apple and Samsung both charge £400 for the 16GB, Wi-Fi model and add £100 if you want 3G connectivity.
Consumers looking at spending £400 on a tablet are probably not looking for it to replace their laptop, media player or any other device they already own - save for, perhaps, an ebook reader - so the Note 10.1 and the iPad are both luxury products.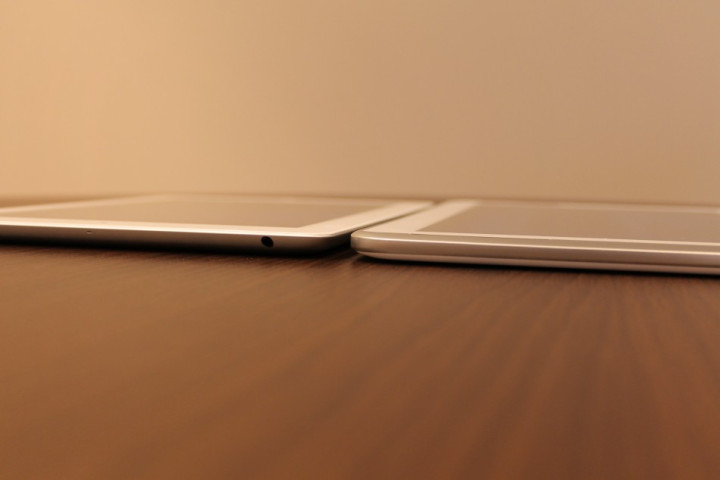 Bearing that in mind, we think the iPad looks and feels like the premium option. Style over substance? Perhaps, but then that A5X processor runs anything you care to throw at it just as easily as the Samsung, so it's got the power too.
Saying one of these tablets is better than the other is a tough decision, and one that would certainly be marred in bias towards our prefered brand, so ultimately it boils down to which operating system you prefer, and if that Retina screen is a deal-maker or not.
But there is a third way...
To throw a spanner in the works, anyone considering a new tablet shouldn't discount the iPad 2, which is still sold for the reduced price of £329.
It's less powerful than the newest iPad and misses out on the Retina display, but it's lighter, thinner and offers the same iOS 5 operating system and huge range of apps and games from the App Store.
The iPad 2 is available with 16GB of storage and adding 3G connectivity will cost an extra £100.
Verdict
Picking a winner between the iPad and Galaxy Note 10.1 is tough, because each tablet offers something unique, while both cover the tablet basics exceptionally well and cost the same.
The iPad has its Retina screen, aluminium build and better app ecosystem, but then the Note 10.1 has the clever stylus, microSD card slot and TV remote functionality.
Your choice may ultimately depend on brand loyalty and which operating system you are more familiar with. We would expect iPhone owners to opt for the iPad and enjoy the Apple ecosystem, but Samsung phone owners may enjoy the similarities between the company's smartphones and tablets.
We doubt that you will be disappointed whichever tablet you choose, but for us it's the iPad that wins thanks to its screen, use of aluminium and the App Store.
Scores:
Galaxy Note 10.1
Screen: 6/10
Design: 8/10
Camera: 6/10
Operating System: 8/10
Build Quality: 8/10
Overall: 8/10
iPad
Screen: 10/10
Design: 10/10
Camera 7/10
Operating System: 9/10
Build Quality: 9/10
Overall: 9/10