iPhone 5 vs Samsung Galaxy S3
If there is one company that has taken the shine off Apple this year, it's Samsung, and if there's one phone that has stolen customers away from the iPhone more than any other, it's the Galaxy S3.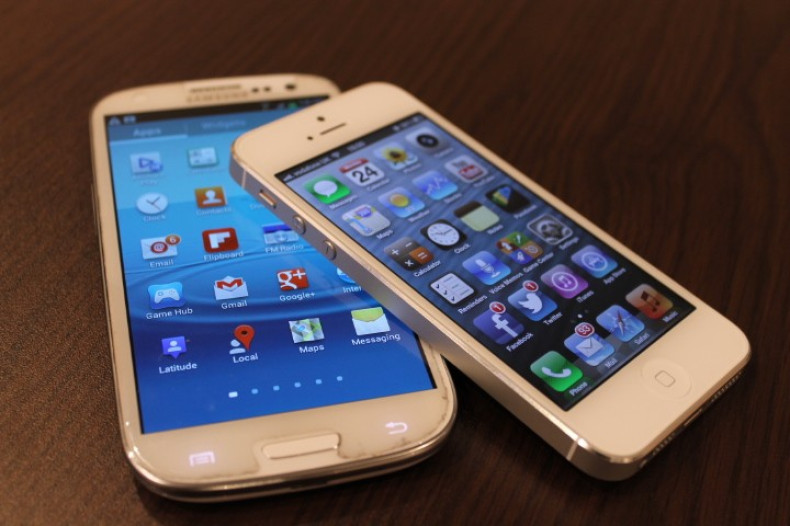 iPhone 5 vs Galaxy S3: Introduction
With the two tech heavyweights launching their flagship smartphones five months apart it's impossible to compare them as closely as we'd like, but nevertheless here we are, pitting the Samsung Galaxy S3 against the Apple iPhone 5.
When Samsung announced the S3 back in May, it chose to host a media event the likes of which the company had never done before.
Foregoing a launch at Mobile World Congress that could have become lost in the crowd, it was held on stage at London's Earls Court, and had more than a passing resembles to the kind of press conferences we're more used to seeing from Apple.
The Galaxy S3 went on sale and, with a little help from the equally large HTC One X, showed the world that Apple's 3.5in iPhone was no match for the huge 4.8in S3. Apple had once said its device was the optimum size for a smartphone, but Samsung and others were setting out to prove it wrong.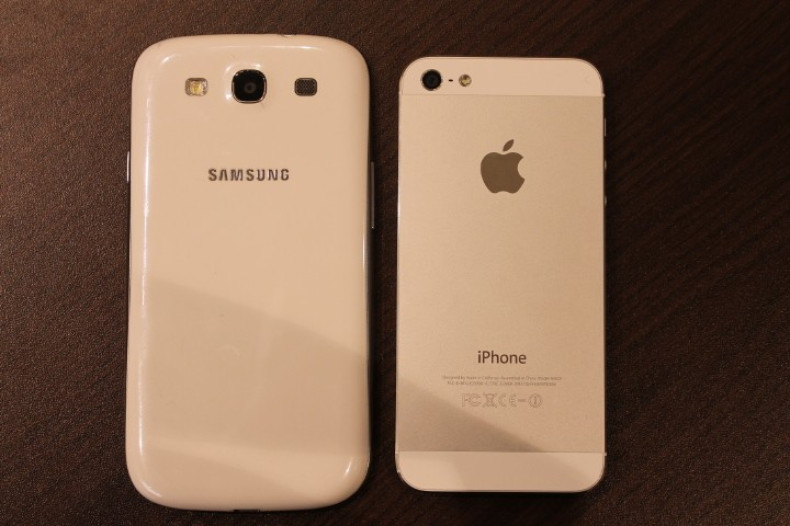 For the first time in its five-year reign, the iPhone had some serious competition and speculation of what Apple would do next spurred the infamous rumour mills into life once again.
Sure enough, Apple fought back and the iPhone 5 was announced - although, of course, we all knew exactly what it would be like inside and out, thanks to a higher than usual yield of leaks.
With a larger screen - but by just half an inch - a more powerful processor, and an aluminium chassis that is a thinner and lighter than before, the iPhone 5 represents something of a conservative approach from a company that forever urged us to Think Different.
iPhone 5 vs Galaxy S3: Design and Feel
Take a closer look though, and the iPhone 5 is completely new and different to the iPhone 4S is almost every way.
Porsche has developed, refined, improved upon and honed its 911 for almost 50 years, yet the basic shape and formula has never changed and that's what Apple has been doing with its iPhone.
As consumers and fans of all things tech, we want the groundbreaking announcements and show-stopping new features every year - we want the same excitement we got when Steve Jobs announced the very first iPhone back in 2007.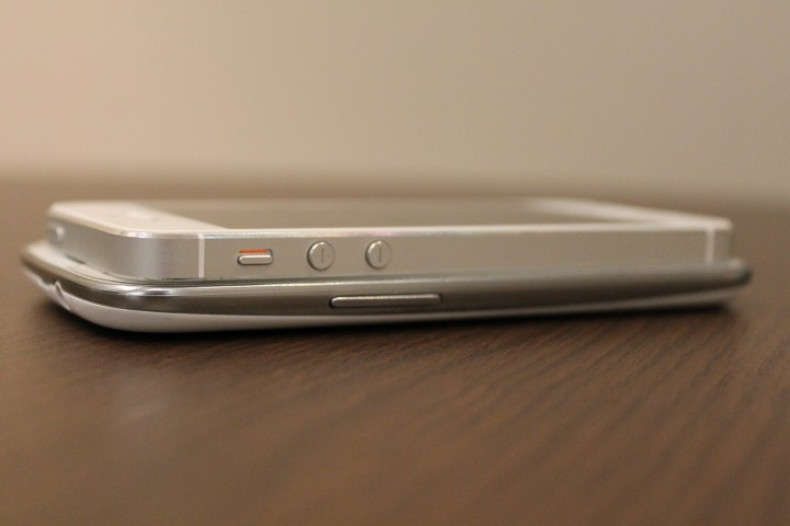 Instead, we have a product that has improved gradually and at its own pace. For the first four generations the iPhone had almost no competition, but then rival screen sizes began to grow and Apple had to react.
For the first time in its life the iPhone was under attack and Apple was under pressure, it was having its move forced by Samsung.
And so the iPhone, with it's once-optimum 3.5in screen, grew to four inches - no doubt as a direct result of competition from Samsung, HTC and others.
Enough waffling. The iPhone 5 is still considerably (some 0.8in) smaller than the Galaxy S3 and an enormous 1.55in down on the incoming Galaxy Note 2, but then the iPhone can still be used in one hand, our thumb can still reach every corner of the screen - and that's important.
We've said here before how the Galaxy S3 just takes a bit of getting used to but - in our opinion at least - the phone simply cannot be used effectively in one hand, and for this at least, the iPhone has an advantage.
Of course, a larger screen is better for watching films and TV programmes, so the Galaxy S3 undeniably gets a point for that, as does the S3 for being just 8.6mm thick - a single millimetre larger than the iPhone 5 but this is impressive considering the extra screen size.
Sat side-by-side, the iPhone and Galaxy now appear to be in the same league and leave the iPhone 4S behind, with its 4:3 aspect ratio and larger screen border making it look older than its 12 months would have you believe.
By its very nature this comparison is going to be full of honest opinion and personal views, and ours is that the iPhone 5 is a better size and shape for everyday use.
Yes, the Galaxy S3 is better for watching content and perhaps browsing the web - when both hands are free - but the iPhone is the better choice for more of the time, and that's important if, as Apple leads us to believe, our smartphone is our most used possession.
iPhone 5 vs Galaxy S3: Performance
Easy to measure and explain quantitatively, but somewhat difficult to explain how all the numbers translate into the real world. Instead of issuing the results of a benchmark test and declaring a winner, a comparison between the iPhone 5 and Galaxy S3 has to be more simple and be based on something we all understand.
First though, the figures. Samsung has equipped the Galaxy S3 with a 1.4GHz quad-core processor and 1GB of RAM. The iPhone 5 has a 1.2GHz dual-core processor and 1GB of RAM (although the company never releases such numbers, benchmark tests found the answers).
The iPhone, as with the 4 and 4S before it, can be had with storage of 16GB, 32GB or 64GB, whereas the Galaxy S3 is offered as a 16GB phone with a microSD card slot capable of taking 64GB more if you have a card big enough.
A 32GB version of the S3 can be had exclusively on Vodafone, and finally a 64GB model was mentioned at launch but is yet to materialise.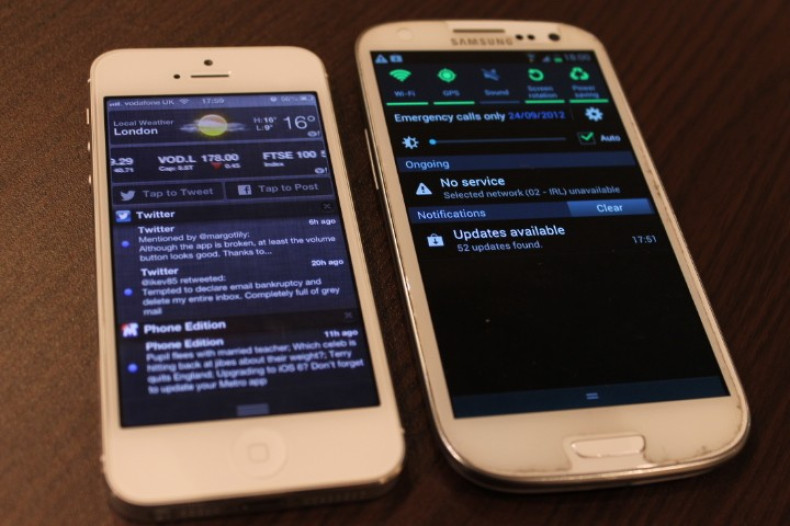 In the real world, you would be hard pressed to spot much difference between the two smartphones. They both absolutely fly through their respective operating systems and both open apps as quickly as each other.
As for web browsing, the larger screen of the Galaxy S3 has its benefits, but then iOS 6 now offers full-screen browsing, so the difference isn't as great as you might think.
Both phones handle the web just fine - but of course the iPhone lacks Flash - and pinching (or double tapping) to zoom in, works perfectly on both.
Battery life is always the weak link on such smartphones, and these are no exception. Apple seems to have made some gains with the iPhone 5 - although we've had ours for less than a week - but despite its efforts anything more than a day is a real test.
And it's a similar story with the Galaxy S3. That enormous screen and powerful processor look great on the spec sheet, but in reality you will really struggle to get more than one full day of average use out of the S3.
The Samsung's battery is larger - 2,199 mAh compared with 1,440mAh in the iPhone - but in testing we found both phones to offer broadly similar battery life.
In both cases you could probably leave the charger at home while at work, but forget to take it on a weekend away at your peril.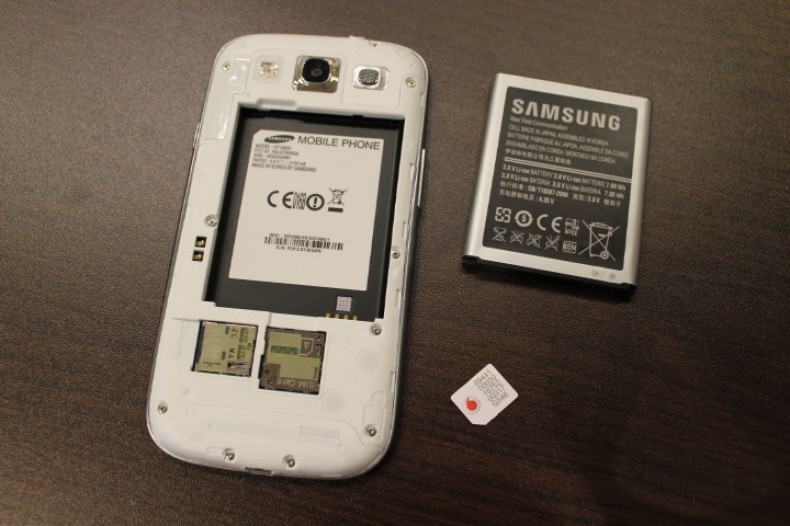 Apple iPhone 5 vs Samsung Galaxy S3: Cameras
Both smartphones get an 8 megapixel camera on the back capable of 1080p HD video recording and both feature auto-focus and an LED flash.
The Samsung's front-facing camera is slightly higher quality than the iPhone 5's, shooting at 1.9-megapixel opposed to 1.2, but both can record 720p HD video.
As we found when comparing the S3 and an iPhone 4S, Android's camera app offers many more features and customisable options than the iOS equivalent.
While Apple has gone down the simple road of offering no more than High Dynamic Range (to take photos in an environment with high and low light) and control over the flash, iOS 6 does at least add Panorama.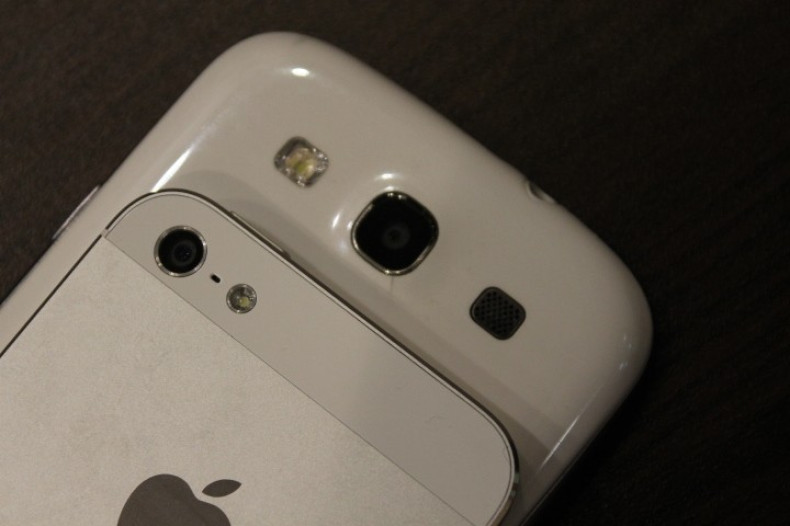 A feature seen on several new smartphones and digital cameras of late, Panorama lets you take very wide shots - of the horizon, for example - by sweeping the phone from left to right. Doing so takes many photos and stitches them together to create a 28-megapixel shot.
In testing we found the feature to work well, but it requires a very steady hands, otherwise ugly black areas appear on your image when the phone has not been able to stitch shots together correctly.
Another new feature for the iPhone 5 is the ability to record video while taking photos at the same time, something the Galaxy S3 can do with both its front- and rear-facing cameras.
This omission aside, however, Android still offers a more complete camera app that, while perhaps complicated and intimidating at first, gives the user much more flexibility in how they want to take photos.
White balance, exposure, ISO and metering can all be adjusted, and filters like sepia, negative and vintage can be applied.
We understand that not every user will care, or even understand, the extra options that Android provides but we like to know they are there anyway, and of course everything can be left on automatic if you prefer.
Apple iPhone 5 vs Samsung Galaxy S3: Operating System
As the Galaxy S3 will get an upgrade to Android 4.1 (Jelly Bean) any day now, it seems unfair to compare the older Ice Cream Sandwich too closely to Apple's brand new iOS 6.
We recently compared the two newest mobile operating systems, so if you want to read an in-depth comparison then click here - alternatively, we have also reviewed iOS 6 in detail here.
As we - along with most of the internet, it seems - have already said, the new Maps app in iOS 6 is poor. Apple has ditched Google in favour of providing its own app with help from TomTom and others, but the results so far have left users annoyed.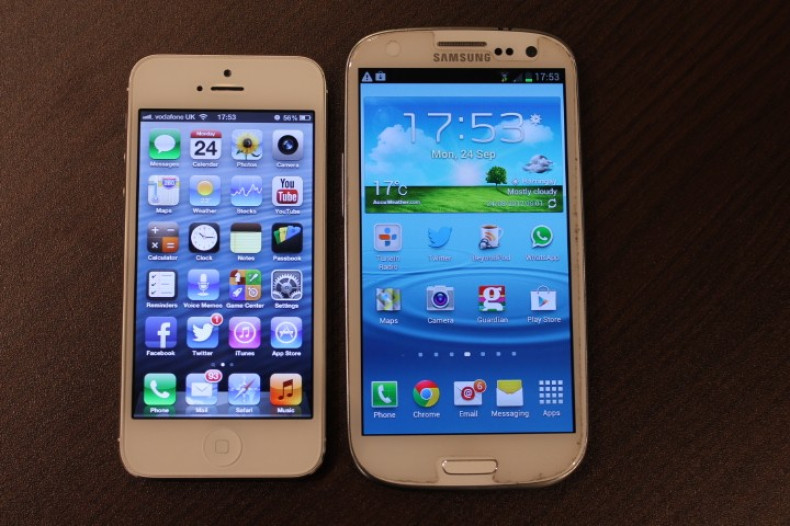 Place names are spelt incorrectly, towns have moved from where they should be, parks have become airports and Apple's all-new 3D mapping - while mostly attractive - is inconsistent. Worst still, satellite images in some places are black and white, or blurry.
Apple - and a mapping expert we recently spoke to - claim the app will improve but it will take time, so users will just have to be patient for now.
We wonder what reaction Apple would have got if the app was called Maps beta.
Away from the maps, iOS 6 is very similar to all previous incarnations of iOS and - dare we say it - is starting to feel a little dated.
Not need to change much for more than five years is impressive for any user interface, but now iOS is starting to show its age, with a notification system that can easily become invasive and has very little customisation.
For Jelly Bean, Google has introduced a number of features under what it calls Project Butter to help make the user interface smoother, faster and more responsive.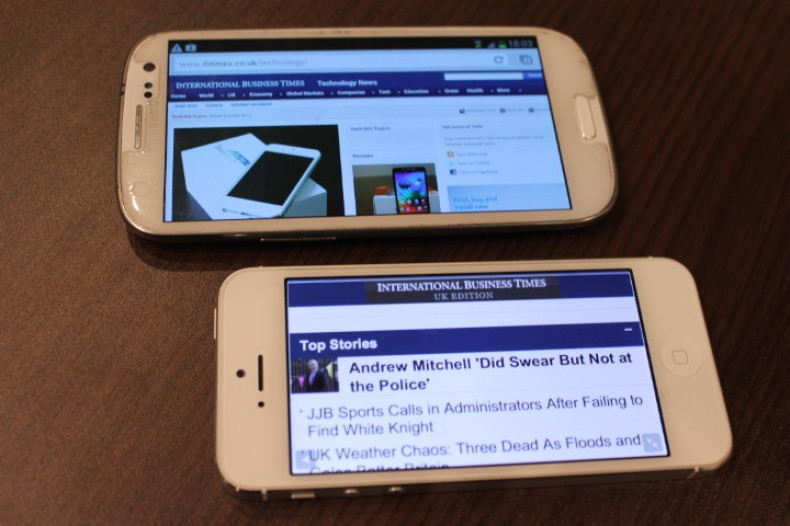 This has been done by maintaining a 60 frames per second screen rate across the whole operating system, as well as allowing the CPU, GPU and display to all operate separately, meaning that they don't have to wait for each other.
Of course, Android has the freedom to look different on nearly every device it features, and Samsung has made some very obvious changes to Ice Cream Sandwich with its TouchWiz interface.
Personally, we are fans of TouchWiz, but those who want Android as Google intended may not be as keen - it's all down to personal taste, as is whether you prefer Android or iOS as a whole.
It's near impossible to state that one is better than the other - they both score points over each other in different areas - so while Apple offers the larger applications store, Google offers more customisation.
Apple iPhone 5 vs Samsung Galaxy S3: Connectivity
Being the flagship smartphones of Samsung and Apple, of course the S3 and iPhone 5 both have Wi-Fi b/g/n, GPS and Bluetooth 4.0 with A2DP to stream music to wireless speakers.
Surprisingly though, Apple has opted to not install an NFC (Near Field Communication) chip into the iPhone 5, something we thought was absolutely certain, given the introduction of the Passbook app in iOS 6.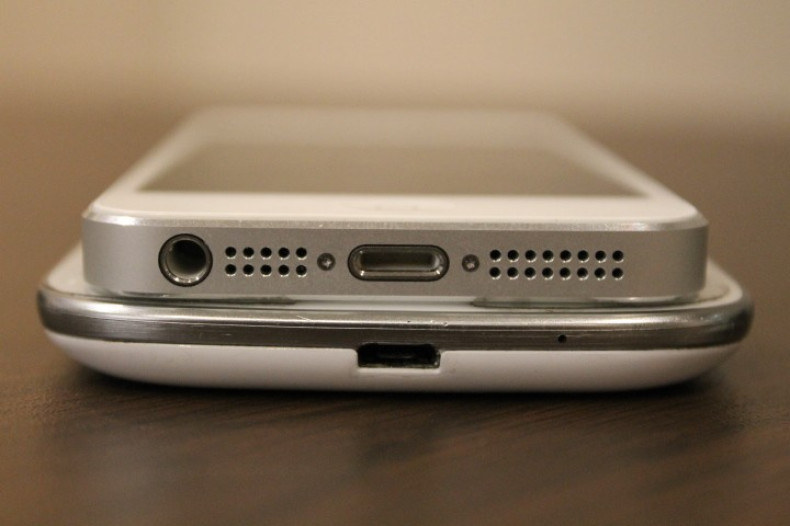 But no, instead of potentially giving NFC payments and the mobile wallet the kick start it needs, Apple has shunned the idea, instead offering Passbook, which can display scannable tickets, boarding passes, gym memberships, coupons and more on the screen.
Samsung has included NFC with the Galaxy S3, meaning it can exchange contacts, images and files with another S3 by tapping them together, and contactless payments are also possible - although where you can make them in the UK is limited at the moment.
For charging and syncing the Samsung has a microUSB port, while Apple made the controversial move of replacing the decade-old 30-pin dock connector with an all-new and much smaller port called Lightning.
Although not offering the faster USB 3 standard, Lightning offers a smaller plug that has helped to make the iPhone as tightly packed as it is, but a £25 adaptor is needed to use the iPhone 5 with any speaker dock or other accessory that uses the old 30-pin connection.
Apple iPhone 5 vs Samsung Galaxy S3: Display
It was undoubtedly the 4.8in screen of the Samsung Galaxy S3 that forced Apple to up its iPhone from 3.5 to 4in, and while this may not sound like a lot, the iPhone 5 is noticeably larger than the 4S and now looks like a phone that should be in the same league as the S3.
We covered the size of each screen earlier in this comparison, so let's look now at the specification and quality of each.
The Galaxy S3 has a resolution of 720 x 1280 and a pixel density of 306 pixels per inch (ppi), while the iPhone 5 has a slightly lower resolution of 640 x 1136, but the smaller display sizes means a higher pixel density of 326ppi.
What this means in the real world is that both phones offer HD resolution screens that are so packed with pixels that identifying individual ones with the naked eye is impossible, so photos and HD video look pin-sharp on both devices.
To our eyes, the iPhone 5 can go a little brighter than the S3, but you'd rarely turn either phone to maximum brightness for long and both just about manage in bright sunlight.
Rather than using the Super AMOLED Plus technology seen in the Galaxy S2, it has a Super AMOLED panel which uses a PenTile subpixel structure. This means that rather than each pixel having three subpixels (red, blue, green) they have two (alternating between red and blue, and blue and green).
In previous PenTile screens this has led to problems such as a distinct colour fringe between black and white text, and a blue hue coming from the screen.
Thankfully, due to the high pixel density and whatever tinkering Samsung has done under the hood, most of these problems have been eliminated - though there is still a blue hue when viewing the screen from an angle.
Because this is an AMOLED panel, blacks are deep and colours punchy (overly so at times).
As for the iPhone's IPS TFT display, Apple has used 'in-cell' technology to do away with a layer of glass, not only making the phone thinner but also bringing the pixels closer to what you actually touch.
The result is hard to explain in writing, but feels more like you are pushing the pixels around with your finger, rather than instructing them what to do by issuing commands through the glass.
Apple iPhone 5 vs Samsung Galaxy S3: Verdict
As we said at the start, comparing these two smartphones is difficult on many levels.
Firstly, the Galaxy S3 has been on sale four months longer than the iPhone 5; secondly, both iOS and Android have got to the stage where there is no clear winner - it's more down to personal preference than ever; and finally, the extra size of the S3 is something that you will love or hate.
These two are at the top of the smartphone league - but don't forget about the Nokia Lumia 920 and HTC Windows Phone 8X, both coming soon - and while naming one outright winner is difficult, it's welcoming that such competition has produced two world-class devices.
For us, the iPhone offers the attention to detail and level of craftsmanship that Samsung simply can't match. The way the aluminium is cut to give mirrored edges, and how every panel gap is perfectly spaced - the cheap plastic finish of the S3 simply can't compete.
All smartphones of this price can do Twitter, Facebook, gaming and the web - the stuff we all do all of the time - and they can all make calls and send text messages, so now all of the bases are covered we start to look at the extras, the features in our peripheral vision.
How the phone feels, how comfortable it is to hold, and how easily it slips into a pocket are all important, now that the basics are covered so comprehensively.
For these details the iPhone 5 wins. It's industrial and cold-to-the-touch design makes it genuinely feel like the high price you pay for it, while the Galaxy S3 - with it's glossy plastic and fake metal finish - does not.
Back in May we claimed the S3 is better than the iPhone 4S, and we stick by that, but our main problem with the older iPhone was its screen size.
Now that Apple has responded - even by just 0.8in - the iPhone has once again taken the title of best smartphone on sale today.
But with Windows Phone 8 devices from Nokia, HTC, Samsung due before Christmas, and the enormous Galaxy Note 2 coming next week, the iPhone has more competition than ever, and whether you prefer iOS or Android, that can only be a good thing.
Must Read: