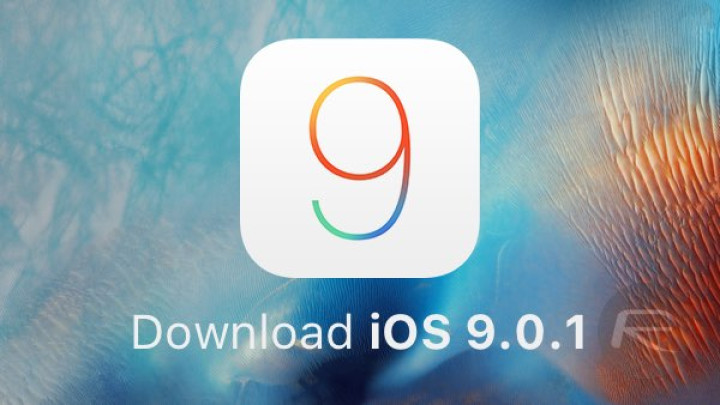 Apple has released the iOS 9.0.1 bug-fix update, just a week after rolling out its newest iteration of iOS 9 to the public. This is an incremental update that aims to fix several stability issues including failed upgrades and freezing problems while using the "Slide to Upgrade" feature via Setup Assistant in iOS 9.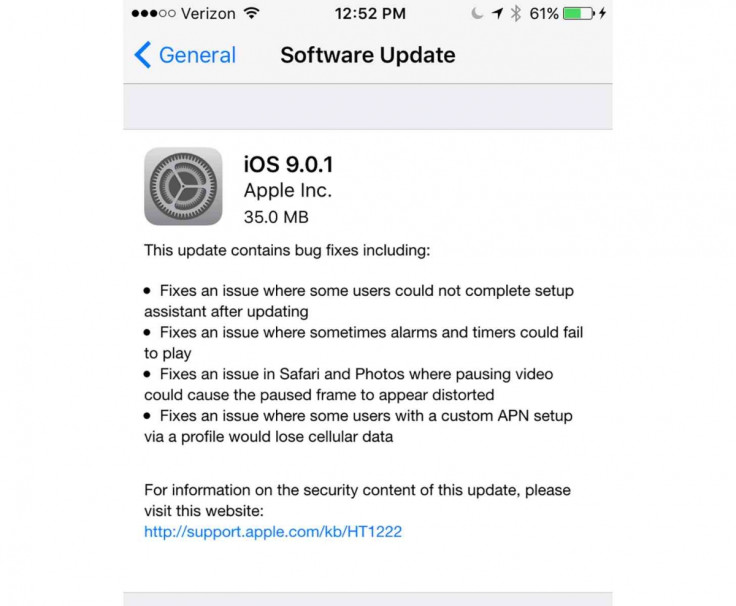 If you are still sceptical about installing the iOS 9.0.1 update, just check out the official changelog below:
Fixes an issue where some users could not complete setup assistant after updating
Fixes an issue where alarms and timers could fail to play
Fixes an issue in Safari and Photos where pausing a video could cause the paused frame to appear distorted
Fixes an issue where some users with a custom APN setup via a profile would lose cellular data
Although the changelog does not mention anything about fixing the prevailing installation and post-update issues in iOS 9, we can be rest assured that Apple would have addressed at least a handful of them in this update as it normally does, following major iOS releases.
iOS 9/iOS 9.0.1 supported devices
Mentioned below are the iOS devices that are compatible with iOS 9/iOS 9.0.1 update:
iPhone 6 Plus, iPhone 6, iPhone 5s, iPhone 5c, iPhone 5, iPhone 4s, iPad Air 2, iPad Air 1, iPad mini 3, iPad mini 2, iPad mini 1, iPad 4, iPad 3, iPad 2, iPod touch 6 and iPod touch 5.
How to install iOS 9.0.1 update via OTA
The update can be installed by connecting your iOS device to iTunes and initiating the installation by clicking on Check for Update button via device summary page. Alternatively, go to Settings > General and click on Software Update to use the OTA feature on your iOS device.
Those who want to perform a clean installation of iOS 9.0.1 due to various installation and/or post-update issues with iOS 9 can proceed with the manual installation method as outlined below:
iOS 9.0.1 direct download links (IPSW)
iPad Air 2 (6th generation WiFi)
iPad Air 2 (6th generation Cellular)
iPad Air (5th generation Cellular)
iPad Air (5th generation WiFi)
iPad Air (5th generation China)
iPad 3 Wi-Fi + Cellular (CDMA)
How to clean install iOS 9.0.1 on iPhone, iPad and iPod Touch
Download the latest version of iTunes for Mac or Windows depending on your configuration.
Download the iOS 9 download link appropriate for your iDevice from the links provided.
Disable Find My iPhone on your device by going to Settings > iCloud > Find My iPhone and toggle it Off.
Connect your iOS device to computer and open iTunes.
Choose your device from the Summary tab under Settings from the left sidebar panel, once the device is detected in iTunes.
Press and hold Alt key (on Mac) or hold the Shift key (on Windows) and then hit theRestore button in iTunes.
iTunes will prompt you to select the .ipsw file you downloaded earlier in step 2.
You can wait until iTunes completes installing the iOS 9.0.1 bug-fix update on your iPhone, iPad or iPod Touch. Once the installation is done, your device will automatically reboot to the welcome or Hello screen.
[Source: Redmond Pie]