"The $349 Apple Watch costs just $84 to make."
This was the headline that was run by multiple mainstream news organisations, such as the Daily Mail, PC Magazine, Quartz, NBC, Business Insider, ZDNet and many more, following the publication of a report from research firm IHS, which claimed the cost of each 38mm Apple Watch Sport model (which sells in the UK for £299 and the in US for $349) was just $83.70.
The implication was that Apple was once again selling one of its products at a huge profit and sticking it to the consumers – something Apple has been consistently accused of since it launched the iPhone seven years ago.
This estimate, however, seems to be significantly off the mark and one former Motorola employee, Hristo Daniel Ushev, has given a detailed account of how IHS would have underestimated the cost of manufacturing the Apple Watch.
Ushev begins by pointing out that, unlike a lot of people who reacted to this research, the problem doesn't lie with IHS failing to take into account research and development or marketing, but it is simply a failure to truly understand how much it costs to manufacture something as complex as a smartwatch.
Meaningfully more
"From my experience working with product and cost experts at a well-known mobile device company [Motorola], I can tell you: Apple Watch does not cost $84 in hardware and manufacturing. It costs meaningfully more. Probably more than two times that."
Apple's CEO Tim Cook, who has an in-depth understanding of the supply chain at the company, had this to say when asked if the margins on the Watch would be lower than the iPhone based on estimated costs:
'Generally, cost breakdowns that come out around our products... are much different than the reality. I've never seen one that is anywhere close to being accurate. And so if that's the basis for your comment, I'd really dig on the data if I were you.'
According to Ushev, there are three reasons why IHS estimates are so far off. The first is that IHS doesn't build product: "When you don't build product, you don't see the actual costs, the detailed costs, and you certainly don't see them across the big picture – the entire product."
The second reason is that Apple Watch contains "new technology" and therefore costs a lot more to manufacture than products that use mostly existing technology.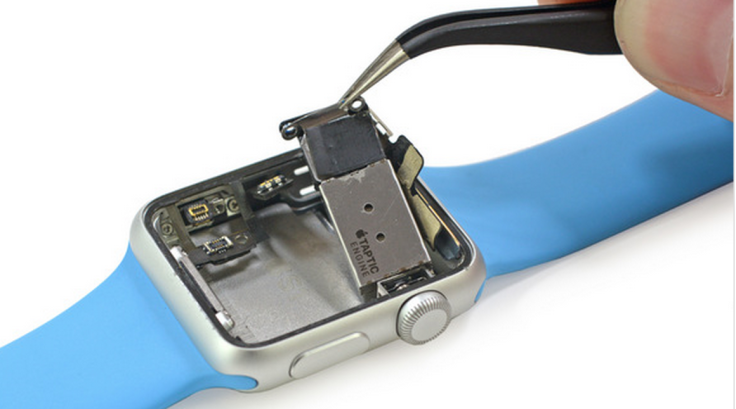 As we have seen from iFixit's teardown of the Apple Watch, the wearable contains a lot of custom parts, including the S1 chip powering the device, the Force Touch display, Apple's proprietary Taptic engine, a heart-rate sensor that is actually a "pulse oximeter" and the Digital Crown that is used to control the Watch.
This, Ushev says, makes it much more expensive to manufacture: "Just as new technology is a benefit multiplier for the consumer, new technology is a cost multiplier for the producer – and if done right, it's also a profit multiplier."
Yields
The former Motorola employee claims that very few people even within Apple would know the real price of the custom-made S1 chip and, as a result price, estimates can be very misleading:
"Very few people know its cost, even at Apple. And if you're outside Apple, you could easily be off by 2X."
Another problem in estimating the cost of a product containing so much new technology is that typically yield rates for the new components are much lower that tried-and-tested components.
"Yield rates for new technology are low. Yield rates for new technology that meet Apple's standards are probably even lower than that. This increases a component's cost and the price that Apple pays for it."
Other factors which Ushev says analysts at IHS may not have taken into account include higher labour costs at the factories that produced the Apple Watch due to having their best employees working on such an important product; the need for custom machines and tooling; and the fact that for the first few months at least this production was done on a build-to-order basis.
The real cost?
Add to this complex network supply, the need to expedite shipping in order to meet launch day deadlines, the vagaries of licensing deals and even the packaging used for the new product and then you can see that estimating the real cost of manufacturing an Apple Watch gets very complicated.
So what does Ushev think is the real cost of the Watch? With the caveat that his "estimate will be wrong, given the uncertainties I described" he says the 42mm Apple Watch Sport will cost $225 (£145) initially, before dropping to $185 (£119) after build-to-order finishes and yield rates improve.
That would give Apple a gross margin of between 35% and 47%, which is relatively in line with what Apple has said.