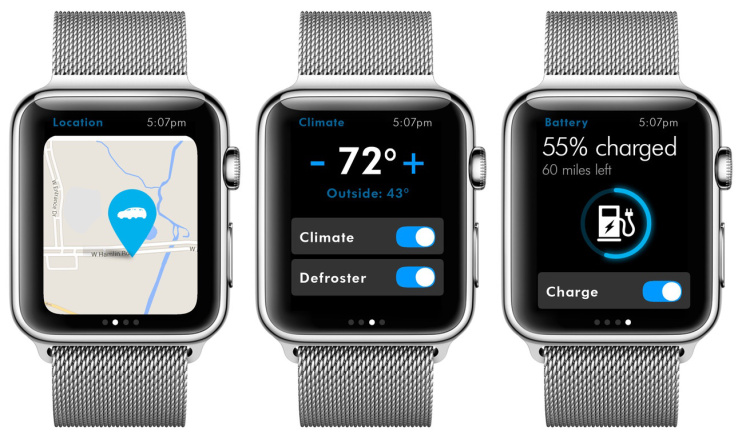 A new Apple Watch application from Volkswagen alerts parents with a beep and tap on the wrist when their teenage children break the speed limit or stray too far from home.
The app, part of the German car-maker's connected Car-Net service, was previously available on the iPhone, but where notifications there can be easily lost among a deluge of news updates, Facebook shares and Instagram likes, the Watch is a device for feeding only the most important updates to your wrist.
With Car-Net, those updates can include when certain members of the family - like your newly-licensed teenage children - go above a pre-set speed and leave a boundary determined by you. If either is broken, the Watch can sound an alert and buzz on your wrist.
The app can also be used to remotely lock and unlock the car, check that the windows and sunroof are closed, set the climate control before you get in, flash the lights and sound the horn (useful when you forget where you've parked), and monitor the fuel level or battery charge. All of these features are an optional extra on VW models from 2014 onwards - including the Golf, Passat and Beetle - apart from remote locking, which is unique to 2016 model-year vehicles.
If the vehicle is involved in an accident substantial enough to activate the airbags, the app will automatically alert the manufacturer using the car's GPS coordinates and call for the emergency services.
"These high-tech features, available through the Car-Net app for Apple Watch, are paving the way to Volkswagen's future of connected vehicles," said Abdallah Shanti, executive vice president for VW's US operations.
Fellow German car manufacturer BMW also has an Apple Watch app, which is an extension of its iOS and Android offerings and can be used to monitor the range and charge level of electric vehicles, locate nearby charging stations, and remotely adjust the climate control.