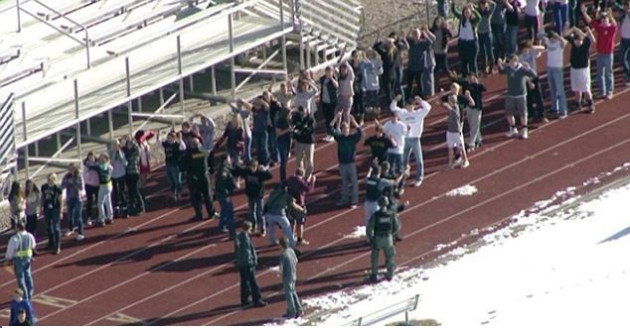 One student is in a critical condition and another injured following a shooting at a Denver School.
The armed gunman has died on the scene as a result of a self-inflicted injury.
It is reported that the suspect was a student at the school, who had a personal grudge against a teacher.
Local police received reports of an active shooter at Arapahoe High School, in Colorado at mid-day.
The gunman reportedly entered the school armed with a shotgun, seeking out a specific teacher by name. The teacher left the building on learning that they were being sought by the gunman.
The gunman was then confronted by another student who was shot and seriously injured. The shooter then turned the gun on himself.
The local county Sheriff made a statement to press, confirming that the suspect was deceased and the two injured students were receiving medical care.
The school has been evacuated with the students being transported to the Shepherd Hills Church where they will be reunited with their families.
Other schools in the area are also on lockdown.
The identity of the gunman has not yet been released.
The shooting comes on the eve of the anniversary of the shooting in Newtown, Connecticut, in which 20 schoolchildren and six workers were killed at a primary school.