Arsenal will bid for Luis Suarez's services in January, according to the Mirror. The Uruguay international was the subject of a heated transfer saga between north London and Merseyside this summer, with Anfield chiefs rejecting a bid over £40m and the former Ajax star sulking in an attempt to force an exit.
However, both Brendan Rodgers and Liverpool owner John W Henry stood firm to deny Suarez the move to the Emirates and Arsene Wenger, under pressure to make a high-profile signing, opted to spend that £40m on bringing German playmaker Mesut Ozil to England.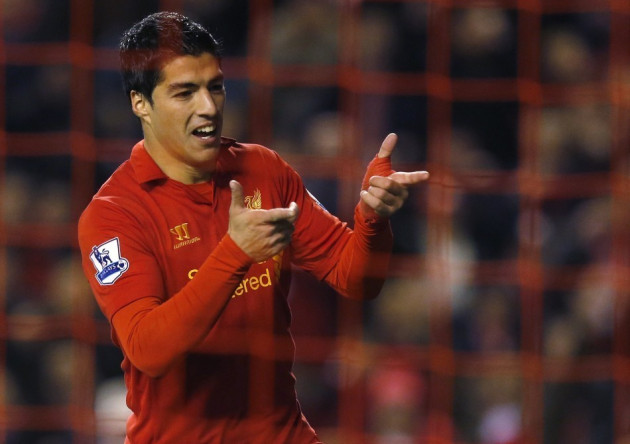 It is believed that one of the primary reasons the former Real Madrid star agreed to sign at Arsenal was the promise the club would spend on more proven world-class talent in the January transfer window. As of now, despite being linked to both Suarez and another ex-Madrid star in Argentina international Gonzalo Higuain, France's Olivier Giroud is the only striker at Arsenal.
Wenger does have Danish international Nicklas Bendtner and French youngster Yaya Sanogo but given that Bendtner has so far bitterly disappointed for the Gunners and Sanogo has little or no experience at a top-level club, the pressure on Giroud to score consistently is immense. And add to that the fact that German international forward Lukas Podolski, the only other player capable of playing the striker's role, is out injured, and it becomes apparent that a new striker is urgently needed at the Emirates.
Arsenal do seem to be aware of this situation and sought to make a second deadline day signing (after Ozil) by approaching Chelsea for out of favour Senegal international Demba Ba. However, they were refused by Jose Mourinho, who admitted he deliberately blocked the transfer after hearing that Ozil (whom he worked with during his time at the Santiago Bernabeu and rates as the finest No 10 in the world) had joined Arsenal.
"I did not accept Arsenal's offer for Demba Ba because added to their signing of Ozil, they would have been title contenders," Mourinho said, adding, "Ozil is unique, there is no copy of him, not even a bad one. He is the best No. 10 in the world."
The 24-year-old Ozil will likely make his Arsenal debut on 14 September, when the Gunners visit the Stadium of Light to face Sunderland. The German's home debut could come the following weekend, when Stoke City visit the Emirates.