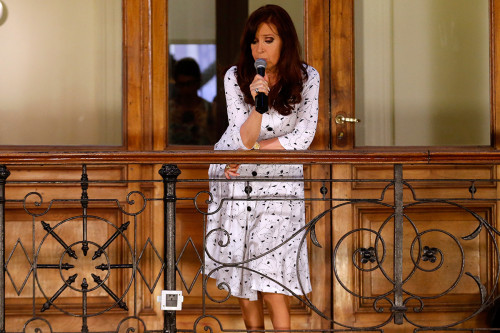 Argentina's central bank spent millions of dollars to control the peso's slide against the US dollar after President Cristina Fernandez de Kirchner relaxed capital controls.
The Wall Street Journal, citing a source, said the bank spent about $115m (€84m, £69m) on 28 January in order to reduce the gap between the official and black-market exchange rates.
The peso remained stable, closing at 8.01 per dollar on the regulated MAE wholesale currency market on 28 January. Last week, the central bank allowed the currency to slide 15% in Argentina's biggest currency devaluation since the 2002 crisis.
Meanwhile, black-market rates for peso weakened to 12.30 per dollar from 12.25, according to local media. The unofficial rates rose to a record 12.75 pesos per dollar last week.
Argentina's decision to ease limits on dollar purchase resulted in price increases of as much as 30% on consumer goods as international reserves fell to a seven-year low.
On 27 January, the country allowed some Argentines to buy as much as $2,000 a month for savings purposes as part of the Kirchner administration's move to take business away from the black market. Argentines have been approaching underground agencies to get dollars for travel or to protect their savings from inflation.
Declining Reserves
The central bank's spending is expected to further diminish the country's foreign-currency reserves, which dropped to $28.9bn on 27 January. Without ample reserves, the country would find it difficult to meet its foreign debts and pay for imports.
Following the country's economic collapse in 2001-2002 and its currency's devaluation, Argentina has found it nearly impossible to attract international loans at market rates. It has since been using its foreign reserves to meet its international payments.
The country has been suffering from a capital flight and dollar shortage since 2011, making it difficult to legally trade pesos for US dollars.
In an attempt to control the situation, the government has introduced a number of restrictions on transactions involving foreign currency. That included a 35% tariff on credit card transaction abroad.
New currency controls were introduced a week after Fernandez was re-elected in 2011.
Despite the measures, Argentina's foreign reserves recently plunged to their lowest level in more than seven years.
The development has pushed the peso to new lows in further troubles for Latin America's third-largest economy, which is already suffering from high inflation rates and declining investor confidence.