Under President Mauricio Macri Argentina has a fresh opportunity to turn a corner and lead Latin America, where leftist governments, and their populist ideals, are failing one after another.
After its 2001 default, Argentina fell into a downward spiral. Nearly 15 years on from the $132bn (£100.1bn, €116.56bn) default, the country still faces sluggish growth, inflation remains high and a large part of the population is living in poverty.
It bears testimony to the failure of populist economic measures, and international isolation, inflicted on the country under the Presidency of Cristina Fernandez de Kirchner, and prior to that of her late husband Néstor Kirchner, that followed in the wake of the default.
The Kirchners' office in-tray
On 23 December 2001, then president Adolfo Rodríguez Saá Páez Montero defaulted on the country's debts. A series of negative scenarios clobbered the nation all at once over 2001-02.
A parity system with the dollar led to a capital outflow. This translated into a higher unemployment rate. Lax handling of systemic corruption, money laundering and tax avoidance increased public debt and damaged the credibility of Argentina's banking system. All the while, foreign debt reached crippling levels.
The perfect economic storm dented foreign investors' confidence, many of whom ended up to withdrawing their investments from Argentina. The economy contracted 11% in 2001, and the unemployment rate reached a record 22.2%, with more than half of the population living below the poverty line.
When Néstor Kirchner was elected president in 2003, he inherited a country facing the worst financial crisis in its history with public debt at a record high and an escalating socio-economic crisis.
Unorthodox reforms
One of the biggest problems Kirchner had to face was public debt restructuring. On 14 January 2005, Argentina began debt restructuring and resumed payments on 76% of the $82bn in sovereign bonds that it had defaulted in 2001. Bondholders who participated in the restructuring settled for repayments of around 30% of face value and deferred payment terms.
Although the majority of the creditors accepted the deal, a minority started a tussle with the government that would hound the country for years. Meanwhile, Kirchner started a verbal dispute with the International Monetary Fund (IMF) on a $9bn debt owed to the Washington-based funding organisation.
Argentina eventually agreed to pay the IMF, but the organisation's demonisation became the centrepiece of Kirchner's populist propaganda. While he tried to pursue the stabilisation of the peso's exchange rate, the president also introduced many unorthodox reforms.
It was quite unusual, for example, that Argentina's Central Bank – which soon ceased to be an independent institution – tried to interfere directly with the exchange rate, instead of being the custodian of sound monetary policy.
In order to increase tax receipts, the government raised export taxes, mainly in the agricultural sector, suggesting producers would benefit from a lower peso. However, the proposals made things worse for small producers and triggered further social unrest.
Following an energy crisis in 2004, Kirchner decided to nationalise the energy sector. As a consequence, private investment in the sector slid. So, regardless its huge hydrocarbon resources, Argentina had to limit natural gas exports and eventually became a net importer.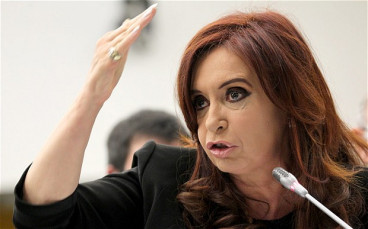 The government tried to support the families with state aid, including a monthly stipend for heads of households who did not have a job and who had children aged up to 18 years, and those not in a condition to work, among other welfare provisions and subsidies. However, rising inflation made short work of it while public expenditure soared.
In 2007, some three years before his untimely death, Néstor Kirchner stepped aside for his wife Cristina to assume the presidency. She continued to pursue her husband's policies with further nationalisations and printing of money to feed high public expenditure needed for the implementation of populist reforms.
Having begun with a modicum of success, the Kirchners' model morphed into a fiasco. Export taxes hit agricultural producers leading to massive unrest. The first protests erupted in March 2008, when the farmers burned 70,000 hectares of grassland to protest against a 45% VAT levy on corn, in addition to the rise in commercial fuel prices. Within three years, there were almost nine similar protests involving soy, corn and wheat producers.
In 2013, suspicion that the government was manipulating inflation data led to further declines investor and public confidence. Worse still, it was generally accepted that Argentina had published manipulated inflation data since 2007.
By the time the Kirchner experiment finally failed with election of Mauricio Macri, a right-wing politician in 2015, inflation stood at more than 20%, foreign reserves were at an all-time low, and another sovereign debt loomed caused by Kirchner's dispute with holdout minority bondholders who she described as "vultures".
Macri's road ahead
President Mauricio Macri, a former mayor of Buenos Aires and leader of Republican Proposal, took office as the first democratically elected non-Peronist president of Argentina in December 2015 with a heavy in-tray.
Making a promise to the international market to infuse economic credibility and openness, Macri commenced the introduction of fiscal reforms avoided by his predecessors, including those carrying a short-term negative impact on the life of Argentines.
He immediately abolished subsidies to the energy and transport sectors, and also re-introduced a free-floating peso. As a consequence, the currency finally matched its black market value, which for some constituted a de facto devaluation, leading to a further rise in inflation.
Within months of coming into office, Macri also ended the dispute with the holdout creditors and opened the country to the international market following 15 years of financial isolation.
Argentina officially came back to international markets in April with a sovereign bond sale of $16.5bn. The deal's underwriters eventually received nearly $70bn in orders for the bonds, more than four times the value of the debt in a testament to returning market confidence.
The government also sent a strong message to strengthen the trust with investors by cleaning up the National Institute of Statistics and Census of Argentina (INDEC) which began publishing seemingly accurate economic data for the first time in 10 years.
It revealed that Argentina's monthly inflation rate eased to 2% in July, less than half of what it was two months before, when the Macri government initially began reporting consumer price data after the statistics office revamp.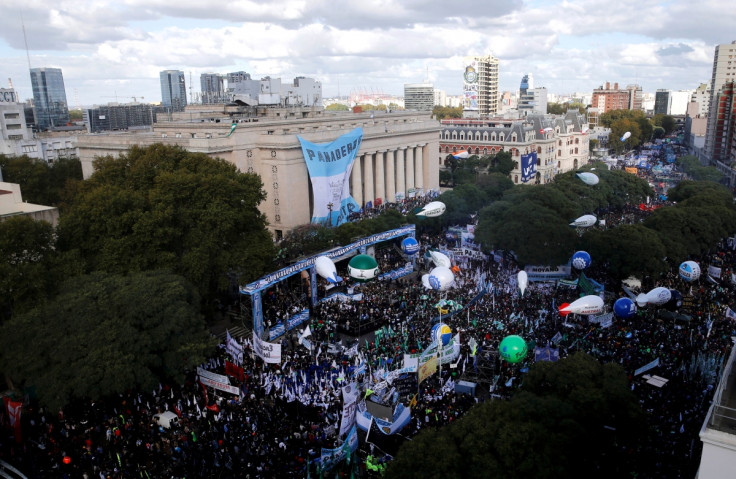 Yet a lot of the reforms are proving unpopular, with the public finding it difficult to adjust to them. In fact, at the moment it looks easier to persuade foreign investors about the solidity of the Macri project than the Argentine public.
Anti-austerity protests have become commonplace and there has been a public outcry over the spike in home heating bills following the removal of energy subsidies. To make things worse, the global economic climate is not favourable either.
The IMF has once again cut its global growth estimates and commodity prices are at a record low. Argentina's neighbouring strategic partners, such as Venezuela and Brazil, are also facing huge crises.
Despite challenges, the President Macri's focus remains on building trust with the international investors, vital for attracting foreign capital to Argentina. In September, Buenos Aires will host the first Argentina Business & Investment Forum, where the country hopes to flag business opportunities to investors and fund managers.
Macri must stay the course and weather demonstrations expected over the coming months which could lead to expected pressure from the opposition in the parliament. His moves appear to be the only solid game in town to get Argentina moving again in a challenging climate.
It will take time, maybe years, for the positive impact to be felt by ordinary Argentines. After years of suffering, many are out of patience and Macri, at some point, will have to increase the public expenditure to calm protests. Nonetheless, he has little choice but to endure political and public hostility and largely stick with his plan, as Argentina's future might well depend on its success or failure.