Bayern Munich winger Arjen Robben says Arsenal's trophy drought makes keeping midfielder Jack Wilshere at the club 'difficult'.
Robben was part of the Bayern side which beat The Gunners 3-1 last week, taking a crucial lead in the Champions League last 16 tie going into the second leg on 13 March.
The result all but ends Arsenal's hopes of claiming a piece of silverware this season, eight years after their last by virtue of the FA Cup in 2005.
Amid Arsenal's barren run without a trophy, the club have lost the likes of Robin van Persie and Cesc Fabregas, and Robben, formerly of Chelsea, is concerned Wilshere could go the same way should a lack of success continue.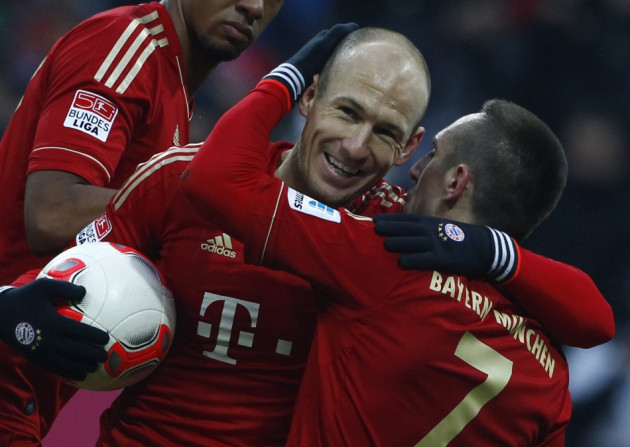 "I don't know if Arsenal can keep him if they are not winning things," he said.
"It's always difficult to judge that about another player.
"But you can see that Wilshere is a very big talent and he is only young still. He's just 21 years old. He will definitely be a big player."
While Arsenal's plight going into the second leg in Munich looks like ending their campaign for a trophy this season, Santi Cazorla's double ensured the club remain in contention to qualify for the Champions League for a 17<sup>th consecutive campaign, after victory over Aston Villa.
But they face a potentially crucial clash with north London rivals Tottenham Hotspur, currently a point ahead of Arsenal having played a game less, this weekend and Wilshere has called on his teammates to sustain a run of form which has seen them unbeaten in their last five league games.
"We have to keep this run going," Wilshere said. "We've got a big game next weekend.
"It's big for us, big for the fans and as a player, those are the games you want to be involved in. We know what we have to do and we have to step up.
"We've started badly in the past few games but we started well here [against Villa]," he added.
"I think we needed that. If we'd gone 1-0 down, it could have been a whole different game.
"We knew we had to start well and Santi got a great goal. We pushed on from there. They caught us on the counter but we showed great character in the end.
"When you're 1-0 up, you're not comfortable and need that second goal to give you a cushion. We didn't get it and Villa kept pressing and pressing. They hit us on the counter and got the goal. We had a corner and then they scored so we have to look at that.
"We're on quite a good run in the league. To keep that going, we have to forget about the disappointments we have had in the cup and in midweek and push on in the league now."