Women in Arkansas may be legally forced to notify their sexual partner or family members if they want to have an abortion - including their rapist.
The state has passed a series of laws which severely restrict women's access to abortion, including a bill which will allow partners or family members to effectively block their termination.
The H.B. 1566 - also known as the Tissue Disposal Mandate - was passed in the state's 2017 legislation session, and will make it illegal for women to have an abortion without informing the man who impregnated her.
The provision was added to the Final Disposition Rights Act of 2009, a piece of legislation which states the fetal tissue from an abortion is a "deceased" family member.
Essentially, the provision states the decision of how to dispose of the aborted fetus is to be made by both the woman and the man - regardless of whether the intercourse was consensual.
Under the law, a teenage girl seeking an abortion would have no say because she would have to be at least 18 to exercise disposition rights over the fetus. If the teenage girl's sexual partner was over 18, he would have the final say.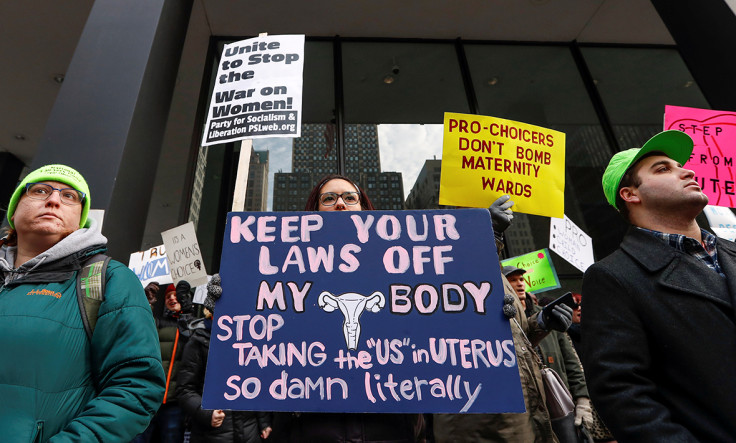 The law is one of four new provisions that will limit women's access to abortions in Arkansas, including a ban on a safe abortion method called dilation and evacuation. Not only is this a medically proven method, it is sometimes used after miscarriage to ensure the uterus is fully evacuated to prevent infection.
One of the laws requires doctors to obtain medical records related to a woman's pregnancy history before performing an abortion - and another requires doctors to inform the police when a girl under the age of 18 has a termination. It also forces the physician to send in fetal tissue as evidence.
The American Civil Liberties Union, the ACLU of Arkansas, and the Center for Reproductive Rights has filed suit to block the Arkansas laws.
Talcott Camp, deputy director of the ACLU's Reproductive Freedom Project, said in a press release: "Arkansas politicians have passed extreme abortion bans that put their political agenda ahead of women's health. No more. We're fighting back."
Nancy Northup, president and CEO of the Center for Reproductive Rights, said: "From essentially banning abortion in the second trimester to violating women's privacy, these measures represent a new low.
"The Supreme Court made clear one year ago in Whole Woman's Health that politicians can't stand between women and their constitutional rights. The Center for Reproductive Rights will continue to use the full force of the law to ensure these rights are protected and respected for all women."